Nominees revealed for 19th Annual Helpmann Awards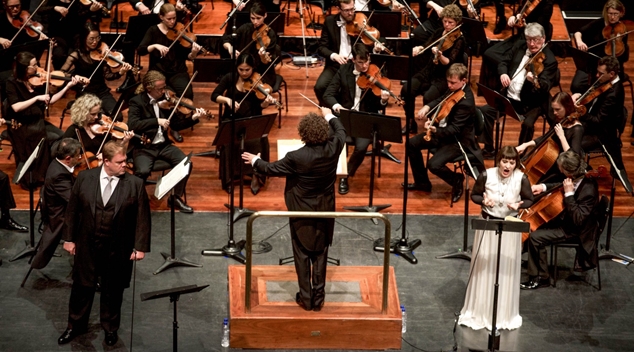 Australia's premier celebration of live performance have announced this year's selection of outstanding nominees across 42 categories.
The Helpmann Awards, which will be held in Melbourne for the first time this year, will honour achievements across comedy, opera, music, theatre, ballet, dance and more.
Western Australian artists shone in this year's selections, with 17 nominations being attributed to our stage.
The West Australian Symphony Orchestra have received three nominations for Tristan und Isolde, WA Ballet got two nods for Dracula and The Last Great Hunt were named for their stunning experimental work Le Nor [the rain] which debuted at this year's Perth Festival.
Black Swan State Theatre Company's Kelton Pell was also nominated for his role in Summer of the Seventeenth Doll, and Aaron Wyatt for Speechless with Tura New Music and Perth Festival.
Opera Australia top this year's nomination count with 23 nods, with Sydney Theatre Company and Belvoir following close behind on 18 and 16 respectively.
Harry Potter and the Cursed Child (Parts One and Two) and Belvoir's Counting and Cracking garnered the most nominations for individual productions with eight each.
Martin Foley, Victoria's Minister for Creative Industries said, "It has been a remarkable year for live performance in Australia and this year's Nominees reflect the breadth and vibrancy of the sector. I congratulate all the 2019 Helpmann Awards Nominees and wish them the best of luck."
LPA Chief Executive Evelyn Richardson said,"We are delighted to be presenting the 42 Helpmann Awards over two nights for the very first time in Melbourne. Over the past eighteen years the Helpmann Awards have had 12,000 entries and announced over 2,900 Nominees which highlight the artistry and excellence in Australia's dynamic live performance industry which is enjoyed by over 18 million people each year."
Also announced on the night was the Best Special Event, which will be presented to MONA for Dark Mofo 2018. This especially bestowed award recognizes outstanding live performance production or presentations that has a unique or exceptional character.
Hobart's Dark Mofo is a midwinter festival that celebrates art, music and culture by exploring the links between ancient and contemporary mythology, humans and nature, religious and secular traditions, darkness and light and birth, death and renewal.
Established in 2013, Dark Mofo has quickly developed iconic status and is a popular and challenging multi-arts festival like no other in Australia.
The 19th Annual Helpmann Awards will be presented in Melbourne for the very first time on 14th and 15th July at the Victoria's Arts Centre Melbourne.
OIP Staff
---