Obama: Orlando shooting was an act of terror and hate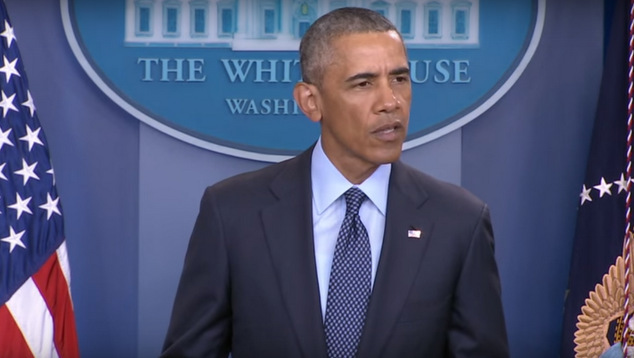 President Obama has described the attack on a gay nightclub in Orlando Florida as an act of terror and hate.
The President gave a 5 minute address noting that not all the facts surrounding the event were known at this time.
"Today as Americans we grieve the brutal murder and horrific massacre of dozens of innocent people." President Obama said. "We pray for their families who are grasping for answers with broken hearts."
"Although it's still early in the investigation, we know enough to say that this was an act of terror and an act of hate."
The president said that the motivations of the killer were not yet completely clear but the offender was clearly someone who was filled with hatred.
President Obama praised the courage and professionalism in responding to the incident saying that their actions saved lives and avoided further carnage.
"This is an especially heartbreaking day for all of our friends, our fellow Americans, who are lesbian, gay, bisexual or transgender. The shooter targeted a nightclub where people came together to be with friends, to dance and to sing and to live." President Obama said.
"The place where they were attacked is more than a nightclub, it is a place of solidarity and empowerment, where people have come together to raise awareness, to speak their minds and advocate for their civil rights."
The president said an attack on any group of Americans should be interpreted as an attack on all Americans regardless or race, ethnicity, religion or sexual orientation.
President Obama said this attack was another reminder to the American people of how easy it is for someone to get their hands on a weapon and conduct a mass shooting.
"We have to decide if that's the kind of country we want to be." President Obama said. "To actively do nothing is a decision as well."
Fifty people were killed at the Pulse nightclub in Orlando Florida when a lone gunman armed with a semi-automatic handgun and an assault rifle opened fire on the crowd before taking hostages and holding off police for three hours. The gunman was killed when S.W.A.T officer stormed the building.
Initial investigations have suggested the venue was specifically targeted as it was an LGBTIQ venue. The shooter, 29 year old US citizen Omar Marteen traveled over 120 miles from his home to carry out the attack.
Watch the statement in full below. 
---
Do you need some support?
If you  are struggling with anxiety or depression, support and counseling are available from:
Lifeline: 13 11 14
Beyondblue: and www.beyondblue.org.au
QLife: and www.qlife.org.au QLife are a counselling and referral service for Lesbian, Gay, Bisexual, Transgender and Intersex (LGBTI) people.
Kids Helpline is available for younger readers.  Call 1800 55 1800, it's free.
---