Oh what a night! Connections' 40th birthday
Lord Mayor Lisa Scaffidi opened Connections Nightclub's 40th birthday celebrations on Saturday night.
In her speech the Lord Mayor recalled spending time at the club in her youth, and paid tribute to the late Holly Wood who often accompanied her to the venue. Holly Wood, a veteran entertainment writer for The Sunday Times, passed away in 2009.
The Lord Mayor told guests at the club's 40th birthday party that in the late '70s and early '80s she often spent time in clubs like Connections, Eagle One and Hannibal's. The Lord Mayor said the evening's celebrations reminded her of that time and she promised guests she'd be hanging around to spend some time on the dance floor.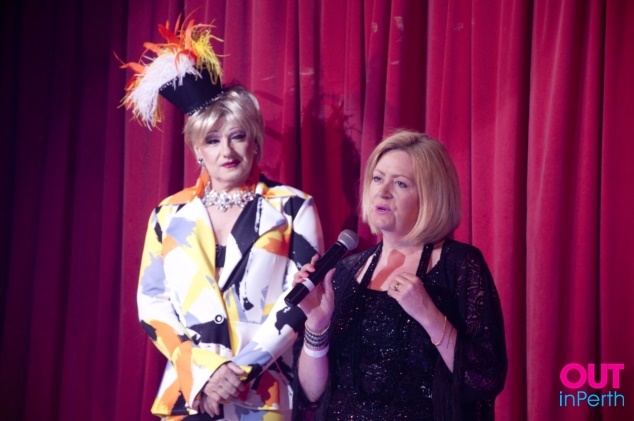 The Lord Mayor congratulated the owners of the venue on their success over 40 years and said the club had grown and improved over the years.
"I'm so proud of what you have done to this beautiful nightclub, you've just made it better and better and bigger, it is a very much loved venue in our city and does so much for our city, we are so proud of what you stand for." Mrs Scaffidi said.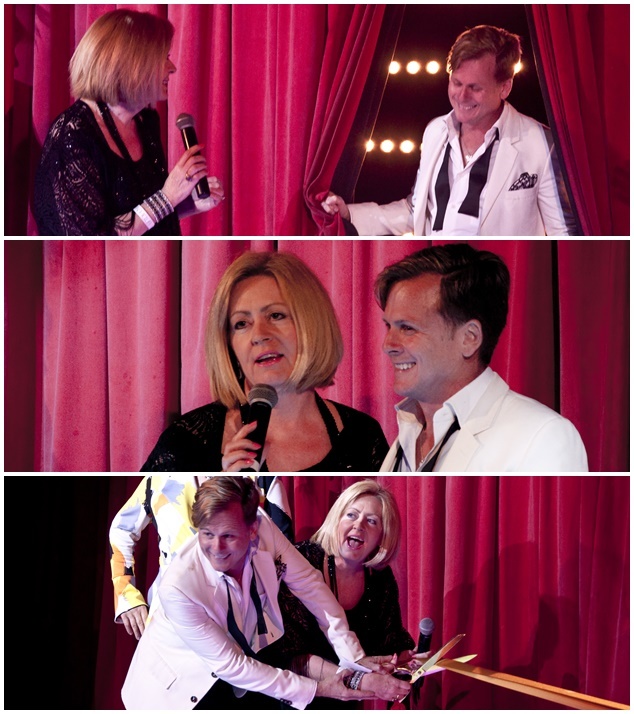 Mrs Scaffidi highlighted that part-owner Tim Brown was a great advocate for Northbridge saying he was very passionate about the precinct and did so much for the whole suburb.
Following the Lord Mayor's speech drag performer Alexas Armstrong lead a conga line around the club to the sound of Kylie Minogue singing 'Celebration'.
Later in the evening the Lord Mayor was spotted 'busting a move' alongside Eleni Evangel MLA and federal member for Perth Alannah MacTiernan.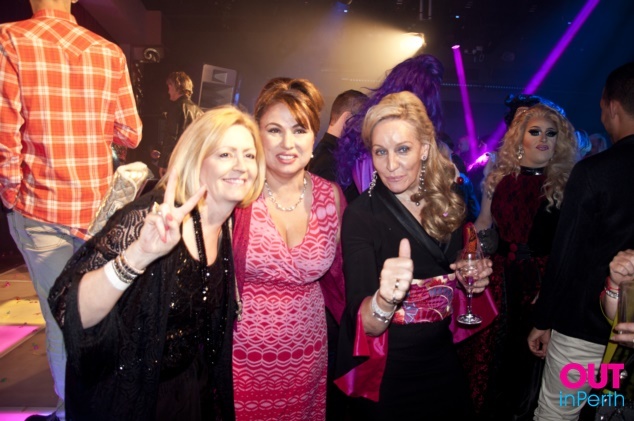 Speaking on behalf of the clubs owners, Tim Brown highlighted that the world had certainly changed since the club first opened it's doors in 1975.
When Connections first began it was illegal to be gay in Western Australia, for the fortieth birthday celebrations the room was filled with elected representatives including Lord Mayor Lisa Scaffidi, Eleni Evangel MLA, Lynn MacLaren MLC, Stephen Dawson MLC, the member for Perth Alannah MacTiernan, Senator Dean Smith, the Mayor of Vincent John Carey and former Senator Louise Pratt.
Tim Brown said that back in 1975 it would have been hard to envisage the club celebrating a 40th birthday with so many elected representatives in the room.
"Back then who would have imaged that we would have so many elected representatives in the room, that our community would have that level of support of recognition." Tim said.
"Over the last forty years Connections has been witness to the most incredible changes in the lives of our people, the lesbian, gay, bisexual, transgender, inter sex and all of our allies and friends."
Tim Brown said that over the 40 years since the nightclub began operating it had gone from being a hidden place behind a very inconspicuous door on James Street to being a beautiful glamorous nightclub that was open to the world.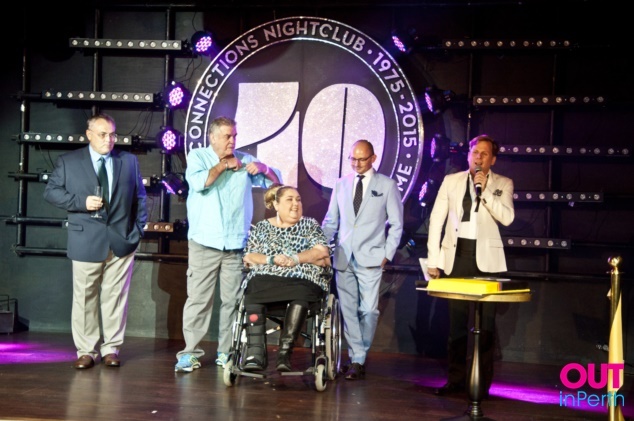 In the early years of the club cameras were banned from the venue to protect attendees identities. Tim Brown highlighted that this symbolised one of the biggest changes that has occurred over time, as he noted that his speech would probably be uploaded to social media by audience members within moments of him finishing.
"If you think of that change," Tim said, "that has been our journey. We've gone from being in the closet to being out and proud. A fairly big change in forty years."
Tim said Connections had been a forty year party due to the hard work and perseverance of thousands of people. Tim said the most important contributors to the club's success were his co-owners Peter Robinson, Tracy and Steve Holland and Geoff Hand. Tim also thanked the clubs hardworking staff describing them as loyal dedicated and a joy to work with.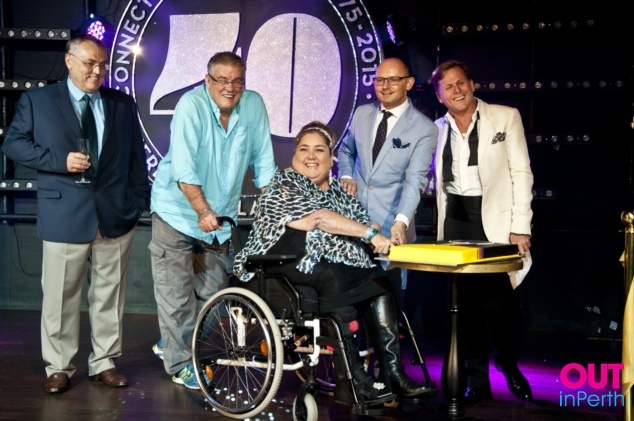 Tim said the club had received many Birthday wishes in the lead up to the celebration but there was one that he chose to share with the crowd because it summed up the club's philosophy so well.
"Congratulations Connections, unfortunately I won't be able to make it this year, I've only been going to Connections this year but each and every time I leave, I always leave with a smile – Here's to another forty years." the message from Clayton Kieliszewski read.
Tim said that for him those sentiments summed up the club's mission; "That someone who has just discovered us, discovered the magic, leaves with a smile on his face."
"This has always been a place where folks came to meet other people… many of us has forged friendships and relationships within these walls that lasted a lifetime… that's what this club is about." Tim said.
Check out our photo gallery of Connection's 40th Birthday Party
Tim's speech kicked off a night of celebrations that included a VIP Champagne reception, multiple performances from the club's drag queens and sets from DJs across three different spaces.
Many of the performers from the club's past returned for the birthday celebrations including drag artists Arpi, Mardi Gras and Electra. The DJ line-up included returning selectors Moosh and Seb Sharp and alongside residents Cinnamon, Milly, JJ, Salut Barbu, Roski and many more.
Graeme Watson