Olly Murs lights up Riverside Theatre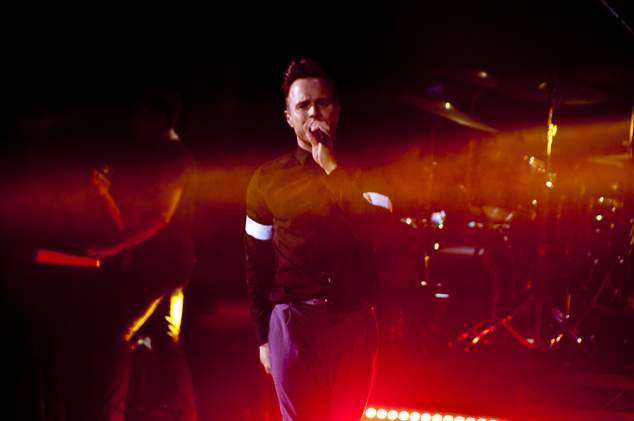 The Riverside Theatre was packed out last night for the runner-up of the UK's sixth season of 'The X Factor', Olly Murs. Tweens craned their necks as mums clutched at their pinots, all eagerly awaiting the appearance of the spritely Englishman.
Murs galloped onstage to a deafening cry, bringing half of the massive theatre to their feet. Launching straight into 'Heart Skips A Beat', Olly bounced around the stage with an enviable effortlessness that was reminiscent of a still Jheri-curled Justin Timberlake.
Born of Simon Cowell's reality machine, Murs' songs smack with the familiarity of the singles of contestants past. 'Did You Miss Me', 'Hand On Heart' and 'Seasons' were all undeniably upbeat, and would be readily at home on a Guy Sebastian album.
Between songs, Murs made known his penchant for Australian women, bantering with the ladies in the crowd. Upon revealing that he was currently in a committed relationship, the sound of tiny teenage hearts breaking were almost audible. Sensing the anguish, he apologetically pledged to have every member of the audience up on their feet by the end of the show.
Olly was also quite fond of intermittently shouting "Australia!" during his songs, my personal favourite affirmation would have to have been during 'Never Been Better' when the lyrics became "Everybody dies Australia!"
Reality TV tightened its stranglehold on the evening as Australian 'The Voice' winner Anja Nissen joined Murs on stage for a duet of 'Up'. The 19 year old from Winmalee predictably dominated her share of the song with her powerful voice, sending the crowd into a shrieking frenzy.
Olly Murs retained his infectious energy throughout the show, wrapping up the evening with a handful of covers. 'Uptown Funk' received a Murs-ening, playing to his strengths as he bopped across every single inch of the stage.
Olly Murs certainly knows how to work his audience, filling each of his songs with an effervescent energy coupled with cheeky dance moves that probably had a few parents feeling uncomfortable. Whether you enjoy his music or not Olly Murs doesn't break a pledge, you will be on your feet by the end of the night – you can't sleep in the theatre.
Leigh Hill