OUTfilm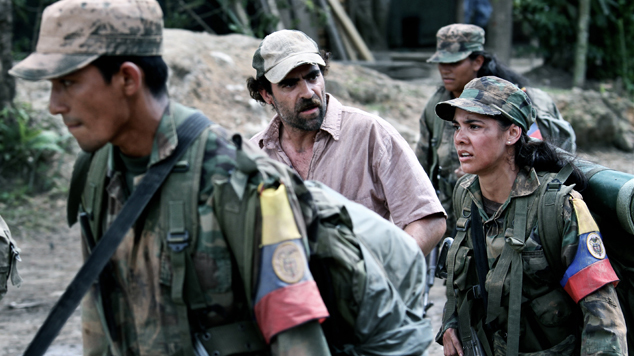 The 16th Spanish Film Festival will be at Cinema Paradiso 12-19 June. Horror film aficionados will be excited to see The Body. Directed by Orio Paulo ('Julia's Eyes', 2010), a detective searches for the body of a femme fatale missing from a morgue. 'Clandestine Childhood' is the debut of director Benjamín Ávila who draws from his own experiences as a young boy in politically oppressed South America of the
1970's. After years in exile with his family, 12 year old Juan returns to Argentina in 1979 to live under an assumed alias, while his revolutionary parents conspire to overthrow the ruling military dictatorship. Also based on a true story, 'Operation E' dramatizes the hostage negotiations that led to the release of Columbian politician Clara Rojas and her son Emmanuel, born into captivity. Told from the perspective of the farmer caring for the baby, 'Operation E' shows an unusual view of the Colombian guerilla war.
Directed by Baz Luhrmann
Written, directed and produced by Baz Luhrmann and costumed by Catherine Martin, this rendition of F Scott Fitzgerald's classic is the most lavish. Described as a "high-octane tragedy", the film is almost like a two and a half hour music video clip. In the era of prohibition, the parties are 3D debauchery with echoes of previous Luhrmann films. It is 1922 and Nick Carraway (Tobey Maguire) has moved into a small house next to mysterious party-giving millionaire Jay Gatsby (Leonardo DiCaprio). We know this because he is in a sanatorium, writing the events of that summer as a form of therapy. Carraway does more than observe the world of the New York wealthy, as his cousin Daisy (Carey Mulligan), who is married to the filthy rich Tom Buchannan (Joel Edgerton), becomes the focus of Gatsby's attention. 'Old money' competes with 'new money' but Carraway cares more for Gatsby than glitz.

Still Mine (PG)
Directed by Michael McGowan
Craig Morrison (James Cromwell) first notices that there seems to be regulations for everything when the local market won't buy the strawberries from his farm after having done so for years. Between harvests, a regulation has cropped up dictating that the strawberries have to be transported in a refrigerated van. Devoted to his wife of 61 years, Irene (Genevieve Bujold), Craig decides to build a more manageable house on his property when her health begins to fail. Thinking that his biggest problems would be time and the weather, he finds out the hard way that regulations stand in the way of every step of construction. As his wife's health continues to deteriorate, he tries his best to satisfy the officious building inspector. This incredible story of bureaucratic madness is based on actual events and 89 year-old Craig finds himself summonsed to court for 26 building violations despite his workmanship actually exceeding standards.
Directed by Rufus Norris
The cul-de-sac where 11 year-old Skunk (Eloise Laurence) lives with her lawyer father Archie (Tim Roth) is inhabited by an assortment of families. Skunk and her brother are looked after by au pair Kasia (Xana Marjanovic) and sometimes her cute boyfriend Mike (Cillian Murphy). The sweet but mentally challenge Rick (Robert Emms) is cared for by his parents and Mr Oswald (Rory Kinnear) has three troublesome daughters to look out for. Director Rufus Norris wanted to lay bare the inadequacies of our society whilst celebrating our spirit, and he does this by revealing events that quickly erode Skunk's innocent outlook on life. All the adults in Skunk's life let her down as she finds out all about love – "idealised, unrequited, unwanted and ultimately, unconditional". Both poignant beauty and unrelenting ignorance fill Skunk's world.