OUTspoken: Get a taste of Perth's queer poetry showcase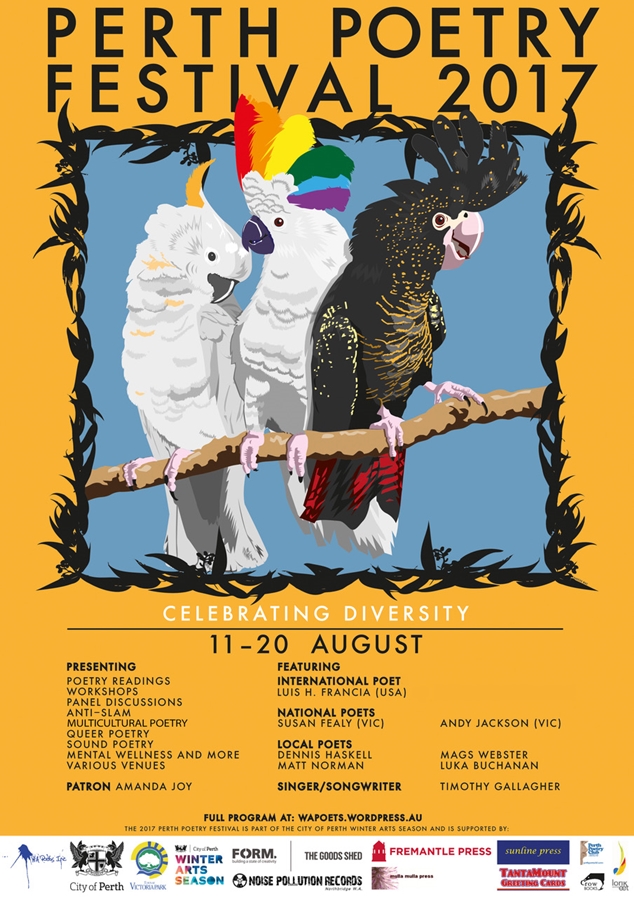 LGBTIQA+ history has a rich rollcall of outspoken poets, individuals who tackled love, language, society, culture and education in revolutionary ways. Such luminaries and icons include Sappho, Oscar Wilde, Gertrude Stein, Allen Ginsberg and Carol Anne Duffy; but these icons all started out as nervous, emerging poets, uncertain of their words, let alone their future and legacy.
Here in Perth, the queer poetry scene is literally exploding at the seams. As the world falls apart, young queer poets are stepping up to speak out in attempt to heal its celestial heart. They do so in the face of a nation that, even as we speak, is infecting itself with hate, spitting venom from the throat… and all over a postal vote.
No doubt this topic – and many others facing our community – will be discussed at Perth Poetry Festival 2017's upcoming queer poetry night, OUTspoken. Now in its second year, OUTspoken (sponsored by Crow Books and Town of Victoria Park) is a mega-mic showcase of how rich and varied queer Perth poetry is.
And yes, there's an open mic, so bring your best words this Friday, August 18, to The Dutch Trading Co in Vic Park from 7 – 9pm as these poets raise funds for The Freedom Centre. Yup, all proceeds from the $5 door entry will be donated to ensure a new generation of queer poets has the opportunity to speak out.
Below is a tasting plate of what to expect. And don't worry, this is just a sample of the 12+ poets who will be there on the night, ready to blow your minds and mend your hearts.
---
Butterflies
We start a garden together,
she grows flowers and I grow vegetables,
she reads me stories from the dinner table
while I cook us dinner –
our house is always filled with friends and children;
we are everyone's favourite babysitters.
At night my tongue has dreams about her taste,
and in the morning all it's wildest fantasies come true.
We paint the town lavender with all our light,
always dancing at backyard gigs, showing winter the
way to summer with all the warmth we have
between us.
I remember learning the language of love
surrounded by scab-kneed school friends,
and first sips of champagne. Now though my limbs are
no less clumsy, the bubbles have only grown
sweeter. There is no fear when she says loves me,
only a flustering in my chest when the light
catches her face, my heart is filled with all
the flowers she planted and the butterflies
can't seem to escape no matter how many years
since first seeds sprouted into hopeful soil.
Tonight, I will curl up next to her on the couch,
she will finish sewing patches on my jacket,
I will read her poetry and the sun
will keep on rising.
– Saoirse Nash
---
Ursula the Sea Witch
I am picked up off the floor
You are holding me in the palm of your hands
Constricting my every move
Until I soak up your venom through my soft skin
You held your hands around my throat
Giving some leeway when I choked on my tears
Snickering each time I squirmed some more
Your hands went tighter each time you felt me slipping
I pleaded with you to cut me some slack
Off the tension that I froze with each time I was around you
But with your usual suspected puzzled grin
You moved towards my ear
Whispering shallowly
The three words that you don't even know how to feel
Until you saw my rib cages cave in
This was you only warming up for your escapade
You nailed my wrists to the wooden boards
Didn't care if you saw the red stains dripping
Each time I begged you to comfort me
You would sow my screams shut tightly
What you failed to do was keep me safe
In the times I was lead astray
I told you I was swept out to sea
And you waved eagerly watching me drift by
Did you notice like I did
That ego sits at the start of negotiate
Honey and I know
That wasn't something you will willing to put on the line
When you tore at my soul
So I spit saltwater out of my mouth
Choking on that bit of air
Scratching my skin until it blisters from the sharp sea winds
I scratch until the venom seeps out
Tossing you out to sea
I want to get rid of the cynical feeling
You injected into my heart
So I write a message in a bottle
Titled simply 'you'
I don't miss the tentacles wrapped around my waist
Or chewing on the sea weed you stuffed in my mouth
I don't miss knocking my head on the rocks
I don't miss hearing you out
So I now lay with her safely on the shore
She strokes my wounded skin
I tell her of you
And how I nearly let you win
– Carissa Wright
---
Moonlight moments
… and as we pulled up, I felt myself too nervous to look for you. Though when you knocked on my door to get in, I understood. You see, we picked you up from a cafe called the moon and ironically in that instant I felt like you became it. As if I were the tide and the gravity from your being alone was pulling me in. Were you what I had been hoping for at night to bring light to my darkest skies? The sheer size of the universe can make it feel overwhelming. But you gave the universe perspective. For the first time looking at you, the universe made sense… and I was no longer nervous.
– Daniel Bacon
---
My Temple
My body is a temple and I will decorate as I see fit.
I will paint the ceiling in glorious sunsets.
I will string garlands of wildflowers around the pews and frame my altar with vines.
I will pave the floors with mosaic so intricate and beautiful no one will even recognise the broken pieces.
I will seal the cracks in the walls with gold, then let the sunlight in to make them shine.
Every piece of art I hang on my walls will make me more.
I am not a thing to depreciate in value.
I am a wondrous display of architectural beauty and people will marvel at me with stars in their eyes.
My body is a temple and I am the God it was built for.
I will fling wide the doors and let the people worship me.
I will invite them inside in droves to fall to their knees, and it will be my decision.
My body is a temple and I will make it strong enough to weather all the storms ahead, that I and others will bring to bear.
And I will make it powerful enough to magnify every inch of sunshine it sees, until the clouds themselves part from my incandescence, and spread the light wide.
I am the God my temple was built for, and I will make sure it is treated as I deserve.
– Jessica Lowe
---
'paradise found'
and god said to eve: swallow
and eve was grown in the womb of passive verb
and learned the taste of blood and roses
before she tasted her own words
and when adam kissed eve for the first time
he sucked the air out of her lungs
and god closed his gleaming white fist
and held her breath out of reach of her throat
and eve said: fuck you.
and god held eve in the middle of a tidal wave
and taught her to swallow every goddamn breath of salt,
saying: blessed are the meek.
so god made satan and gave him charm
satan said: i have a way out
eve said: show me
so god said: look how vain you are
eve said: forgive me, forgive me
and adam said: hallelujah
and god said: hallelujah
and god said: never forget what you are
eve said nothing,
and god was pleased.
and eve gave her tears to the clouds and called it rain
and eve gave her voice to the sky and called it thunder
and eve gave her rage to the land that called it fire
and eve gave her body to the dirt and called it life.
and god began to choke
and god began to writhe
and eve killed god and cried hallelujah
because god was never the only creator.
– Luka Buchanan
---
Main text by Scott-Patrick Mitchell

Poster:- : Sheeds Mac (@sheeds_mac)