Palmer reveals stance on marriage equality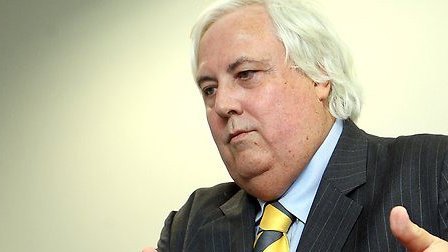 Clive Palmer has publicly announced his stance on marriage equality at a press conference in Sydney this morning, asserting that marriage should be controlled by churches alone, not the government.
The member for Fairfax told press that his Palmer United Party (PUP) had been developing their policy over the past 12 month through research and community feedback.
Mr Palmer says his policy is designed to ensure the right for religious bodies to refuse marriages to same-sex couples.
The PUP leader supports civil unions for same-sex attracted people, as well as marriages provided the couple seek approval from their respective church before-hand.
"You can't legislate for social acceptance. Real chance only comes by people accepting each other," he said, "If you're a gay couple you don't want to go to a church where you're not accepted. One thing we know about worshipping religion is that we want to be accepted by our peers."
"Many churches are worried that same-sex couples will take legal action against them, forcing them to admit and marry people against their beliefs," Mr Palmer said.
"It has long been accepted that separation between church and state forms the basis of any democracy. We need to ensure that the reach of government does not direct or require any religious organisations or churches to act against their beliefs."
Mr Palmer told media he had written to Prime Minister Malcolm Turnbull and Opposition Leader Bill Shorten to encourage them to support his plan, in lieu of a plebiscite. Mr Palmer says the PUP do not support a plebiscite due to the potentially divisive effects.
"They [Coalition and Labor] seem to be putting off the decision because they don't want to face reality," he said, "What happens if we have a plebiscite will be that the community will be divided, some will ask when the next plebiscite will be."
"So we need to have a policy that will provide certainty to the community and more importantly doesn't divide and separate it."
Australian Marriage Equality have called Mr Palmer's policy "radical and unnecessary".
"The simplest way to ensure churches aren't forced to marry same-sex couples is to allow clergy to refuse to marry them," AME national director Rodney Croome said.
"The Marriage Act currently allows clergy to refuse to marry any couple who don't conform to the church doctrine and that provision should simply be expanded to include same-sex couples when marriage equality is enacted."
Mr Croome did however agree with Mr Palmer on the dismissal of a plebiscite on the matter, supporting a free vote for all MPs.
"All MPs, regardless of party, should be free to vote according to their own beliefs on marriage equality."
OIP Staff