Pauline Hanson declares postal survey will be invalid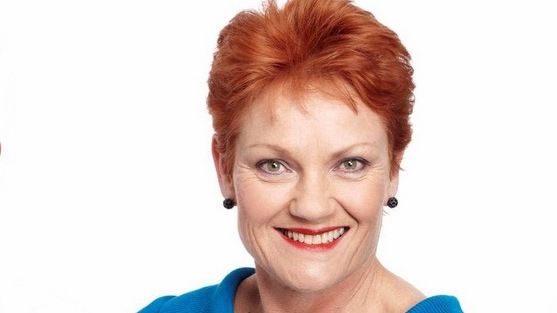 One Nation leader Pauline Hanson has declared the results of the Turnbull government's postal survey on marriage will be invalid because too many survey papers have become lost or stolen.
Senator Hanson said because the envelopes the survey forms are sent back in a see-through envelope they may be tampered with by Australia Post's staff.  Senator Hanson said the postal survey was a farcical exercise.
The political leader shared her view during a fiery exchange with The Greens' Senator Sarah Hanson-Young on Breakfast TV program Sunrise.
"I think we are being treated as fools in regards to this plebiscite on same-sex marriage. Let the people have their say in the proper way at the next election, and make sure that it is a true vote." Senator Hanson said.
"There should be no hatred in this, I'm sick of people saying that they are homophobic, or the problems that are associated with this. Everyone should realise that we are given a say in this, it's taken out of the hands of the politicians, which I think is great, let's do it in a balanced measured way."
Senator Hanson-Young asked if the One Nation leader was proposing another public vote after the current postal survey was concluded.
"I'm actually having my say now," Senator Hanson responded, "but you know the fact is votes are being sold out there, you know that they've been stolen, you know that it's not correct, and it's not right."
Senator Hanson challenged Senator Hanson Young on whether or not she would respect the results of the survey if a No vote was successful.
"If people say no they don't want same-sex marriage are you going to keep quiet and just say nothing about it? I bet my last dollar you won't."
"I think it is wrong what is happening, it is not going to be the true vote. it's all a joke and a waste of money." Senator Hanson said.
Senator Hanson-Young said One Nation was part of a fear campaign that was against marriage equality.
"Sure, some people will vote no, you'll run the fear campaign Pauline, and you'll say that kids can't call their parents Mum and Dad, we all know that's crap, absolute crap.
The One Nation leader denied she'd said that allowing marriage equality could lead to children not being able to call their parents Mum and Dad.
"I didn't say that." Hanson answered, "There you go again, I'm sick and tired of you and The Greens, you misrepresent my words, what I say. I never said parent's would never call their kids.."
Senator Hanson-Young interjected with "I guess your being silenced again aren't you Pauline, here on national television. You're being silenced again, not allowed to have you say. Get over it."
Watch the exchange below.
While Senator Hanson denied making the suggestion that marriage equality would lead to children not being able to call their parent's Mum and Dad, she did raise the proposition in parliament last week.
Speaking about the Marriage Law Survey (Additional Safeguards) Bill 2017 in the senate on 13 September, Senator Hanson said down the track it could become difficult for Australia's school teachers if children who had same-sex parents became offend by the teachers making casual comments about parents.
"What may come of this is: kids might go to school and they say, 'I want you to draw a picture of Mum and Dad?' or 'What have Mum and Dad done?' or 'Have you had time with Grandma and Grandad?'
"Is someone going to say, 'Sorry. You can no longer call that parent Mum or Dad because it is going to offend the children who don't have a Mum and Dad'? Is it going to be: you must call that person by name—Peter, Anne or John? It is no longer Mum and Dad; it's no longer Gran or Granddad. This is the impact it's having in other places, or so I have been told."
Senator Hanson didn't elaborate which of the 25+ countries that have brought in marriage equality had banned the use of the words 'Mum' and 'Dad'.
---
Do you need some support?
If you are struggling with anxiety or depression, support and counselling are available from:
Lifeline: 13 11 14
Beyondblue: and www.beyondblue.org.au
QLife: and www.qlife.org.au
QLife are a counselling and referral service for Lesbian, Gay, Bisexual, Transgender and Intersex (LGBTI) people.
---
Support OUTinPerth
Thanks for reading OUTinPerth. We can only create LGBTIQA+ focused media with your help.
If you can help support our work, please consider assisting us through a one-off contribution to our GoFundMe campaign, or a regular contribution through our Patreon appeal.