Pauline Hanson links Tennessee school shooting to Australian protests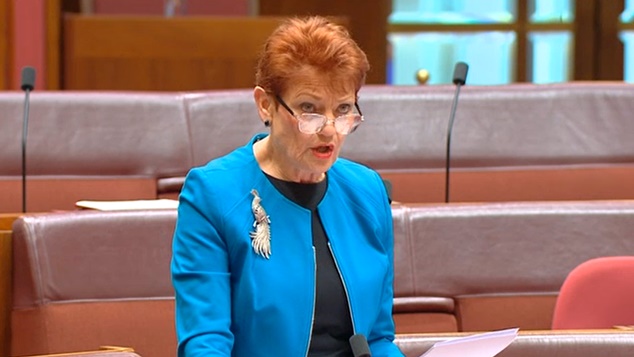 One Nation leader Pauline Hanson has delivered a speech to parliament linking the tragic shooting at a Tennessee school to recent transgender rights protests in Australia.
Warning: This story has details of violent acts which might be distressing to some readers. For 24-hour crisis support and suicide prevention call Lifeline on 13 11 14. For Australia-wide LGBTQI peer support call QLife on 1800 184 527 or webchat.
On Tuesday tragedy struck in Nashville Tennessee when three adults and three children were killed in a school shooting. It was the 129th mass shooting is the USA so far in 2023. A mass shooting is defined as an incident where at least four people have been killed or wounded, excluding the shooter.
Police confirmed that a 28-year-old former student armed with several guns fatally shot three 9-year-old children and three staff members at a private Christian school. Police responded quickly to the reports and an active shooter, and the assailant was shot and killed when confronted in a lobby area.
Police Chief John Drake told the media that the suspect had detailed hand drawn maps of the building and left behind a "manifesto" that investigators were examining. For several hours the police identified the 28-year-old woman as Audrey Hale.
At a later media conference, the police chief confirmed that Hale was transgender but declined to elaborate on how Hale currently identified.
In the Australian parliament Senator Hanson said there was a connection between recent protests in Australia and New Zealand and the deadly shooting on the other side of the world.
"Demonising those who question the left's radical gender ideology can have severe consequences." Senator Hanson told the senate. "The leis and misinformation about the motivations of conservative parties, Christian organisations, and women's rights groups, who have challenged the left' on their gender politics is leading to hate and violence."
Senator Hanson said recent demonstrations against peaceful "women's events" in Australia, and the actions of a "radical racist senator" had undoubtedly contributed to disruption in New Zealand last weekend.
The One Nation leader recently spoke at Kelie-Jay Keen's 'Let Women Speak' event when it was in Canberra last week, where independent senator Lidia Thorpe was thrown to the ground when she attempted to interrupt the proceedings. Keen's tour continued to New Zealand where she was overrun by large crowds of protesters, forcing her to flee the event.
"These lies increase the chance that very unwell people, obsessed with gender ideology and confused about their own identity, will commit violent acts as a way of retaliating against those they perceive as their oppressors.
"We have seen this in Australia and New Zealand, and now with deadly consequences in the USA. A 28-year-old has committed a mass shooting targeting teachers and children. At least six deaths have been confirmed, the alleged shooter apparently self-identified as a man." Senator Hanson said.
"The extreme left say this sort of person needs compassion and gender affirming care to reinforce their delusions. These hateful attacks against concerned conservatives, Christians and women's rights need to stop before we see more innocent people die."
"To ask a question or to seek an inquiry, is an act of compassion, not prejudice. Let's stop the lies and hate and start asking questions so we can develop solutions that will work and help people in need." Senator Hanson said.
In the USA Republican politician Marjorie Taylor Greene responded to the school shooting calling for more guns in schools.
"Children and school staff should always be protected the same way politicians, money, precious stones, and gold are protected, but even more so, by good guys with guns." Taylor Greene said as part of a long post on Twitter.
OIP Staff
---
Do you need some support?
If you are struggling with anxiety or depression, support and counselling are available from:
QLife: 1800 184 527 / qlife.org.au (Webchat 3pm – midnight)
QLife are a counselling and referral service for LGBTQIA+ people.
DISCHARGED: [email protected] / discharged.org.au
Discharged is a trans-led support service with peer support groups for trans and gender diverse folks.
Lifeline: 13 11 14 / lifeline.org.au
Beyondblue: 1300 22 4636 / www.beyondblue.org.au