Penny Wong says we must think carefully in 'religious freedom' debate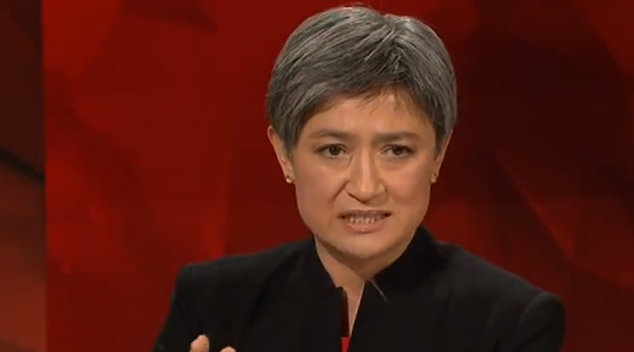 ABC's weekly panel program Q&A tackled the ongoing debate surrounding the government's Religious Discrimination Bill and the sacking of Israel Folau last night.
Panelists included Senator Penny Wong, Senate President Scott Ryan, Human rights lawyer Diana Sayed, ANU Professor Hugh White and Centre of Independent Studies' Tony Switzer.
When an audience member asked if the current conversation around former rugby star Israel Folau's termination by Rugby Australia after a social media post condemning "gays" to hell, would be playing out the same way if Folau were Muslim, rather than Christian.

Liberal MP and President of the Senate Scott Ryan said that he didn't know, and thinks this debate has been brewing for a while.
"I think this debate follows a longer debate we've had about the laws around speech, that have been going on for several years," Ryan said.
"I think this has got two issues. There's firstly the issue of what are you allowed to contract for, and is the state allowed to interfere in the rights of contract. Then there is secondly laws around the limiting of speech."
"I'm particularly radical and liberal on this, I'm much more down the American school of free speech, and that applies to defamation law, laws we have around vilification, as well as laws we have around publication and freedom of the media. That's not a common view I must say."
"I don't know if something that is said should be legal because of a particular religious view, whether that be Christian, be Muslim, or writings of L. Ron Hubbard, that would otherwise be illegal if I didn't have a religion," Ryan continued.
"I think the Attorney General is being very responsible here… he understands the complexity and he's undertaking consultation with the parliamentary party before he takes it out to stakeholder groups. I just think we need to be careful."
"I don't think we need more laws limiting speech, but at the same time I think this is a complex balancing of competing interests that we've got to be careful that we don't draft a broad law that just kicks that ball into the judiciary or tribunals and we don't know where the answer is going to land."
Senate Opposition Leader Penny Wong said that while Folau was entitled to his beliefs, she does not agree with them, and that he "doesn't speak for all Christians."
"We don't want to become less accepting, we don't want to become less tolerant. We don't want to abrogate our agreed view that people are entitled to equality before the law, that we believe that people are equal regardless of gender, race, faith, sexuality, disability, etc…" Senator Wong said.
"I'm open to a discussion about how we deal with religious protections – but I would make this point – and I made this point during the marriage equality debate; there is a distinction between a right to belief and the assertion that that belief should lead to you being treated differently before the law."
"I think we need to think very carefully about how we manage this debate. I hope it can be in a way that's not partisan. I hope it can be done respectfully. And I hope it can be done with the objective of ensuring that just as Australians of faith don't wish to be discriminated against, Australians of other attributes also don't wish to be discriminated against."
Diana Sayed, Campaign Manager for Fair Agenda called on the Morrison Government to ensure that any Act doesn't give people a licence to discriminate.
"It's important that any reforms in this area don't create a licence to discriminate, and allow someone to use their religion as an excuse to discriminate against others.
"It's vital that the Government ensure through this process that people of faith, women and LGBTIQ+ people are protected equally." Sayed added.
LGBTIQ+ advocacy group Equality Australia have commented on last night's episode of Q&A, saying it highlights the Morrison Government's lack of consultation to date.
Fair Agenda has joined with Equality Australia in petitioning the Government to ensure people of faith, women and LGBTIQ+ people are protected equally; and have urged the Government to meet with them and other affected communities during their consultation period to ensure these protections are realised.
They've expressed concern that inappropriately drafted indirect discrimination provisions could interfere with current protections under employment policies, which are designed to provide safe and healthy workplaces and to ensure staff publicly uphold a company's values of inclusion and non-discrimination.
They've also queried the impact of any unfettered free speech provisions that some religious lobby groups have been arguing for, which could override important reproductive health protections such as safe access zones that operate in many states.
"In most states there are safe zones in place at abortion care clinics to protect patients and doctors from the harassment and intimidation they were previously subjected to by picketers – many of whom would consider their actions to be religiously motivated. The High Court has held that these safe access zones should stay, but conservative religious lobby groups are still calling on the Government to remove these essential protections" Sayed concluded.
"The Government has said they want to find balance and will consult – yet the people who will be most negatively impacted by the Bill have not been invited to meet with them," said Lee Carnie, Director of Legal Advocacy at Equality Australia.
"We want to see anti-discrimination protections that ensure affirming churches can continue their practice and that LGBTIQ+ people, single mums and divorcees can access services run by religious organisations without fear of being turned away or condemned for who they are.
"The Morrison Government needs to be transparent about the draft Bill and undertake a full consultation with those who are most impacted by these debates", concluded Carnie.
OIP Staff
---