Perth Breakfast Radio Hosts Test How "Gay" Listeners Are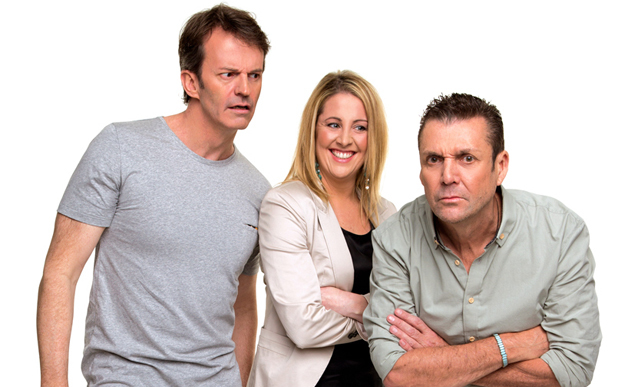 Perth's top rating Breakfast radio team 'Clairsy, Shane and Kymba' from Mix 94.5 have aired a comedy quiz in which they estimated how "gay" their listeners were.
Members of Perth's LGBTIQ community contacted OUTinPerth sharing their disbelief at the segment.
The segment, which aired on Thursday morning asked listeners to call in and take part in a game called 'Are You a Gay-dar?'. In the game, callers would answer questions from the radio hosts, who would then try to determine the sexuality of the caller.
"Well the thing is, we all have an in-built gaydar. We meet people, they're fabulous, it goes off. I sometimes meet people for the first time, and I've got a whole bunch of my mates and we just go 'What do you reckon? Is he? Is she?' I usually find it harder to pick a gay woman than a man because the man is kissing me at the time." Shane said.
Questions the hosts asked included what type of underwear the caller was wearing, what hygiene products they use and whether they could recite lyrics from Broadway musicals. After the quiz, a beeping sound effect would play and determine how "gay" they were by percentage.
Radio announcer Shane greeted a caller named 'Bruce' with a lisp and higher-pitched voice. Another caller, Phil was told he was "31% gay" and awarded a prize pack of American Crew grooming products.
"Can I use that on my chihuahua in my handbag?" he replied.
"Tell you what, we're going to throw in a copy of Kylie's CD as well." Clairsy laughed.
Mix 94.5 Content Director Erica Hodge of Southern Cross Austereo contacted OUTinPerth with the following comment:
"It seems our segment has offended a number of people, and for that we are deeply sorry. It was our intention to celebrate Mardi Gras with a bit of fun, and the segment was designed in consultation with not only the two producers of the show who are openly gay, but also other gay members of staff. We attempted to highlight the ridiculousness of there being an online 'test' to see if someone is gay – our delivery may have been somewhat clumsy but the intention was in no way vicious or designed to ridicule.
"Our show hosts are incredibly supportive of the LGBTI community, all with close personal friends who are homosexual, and as a company SCA Perth has publicly championed marriage equality and, as recently as last week, helped a lesbian couple get married at the British Consulate.
"We certainly attempted to do a litmus test on what was appropriate in this case – it appears we may have missed the mark, and for that I sincerely apologise."
OIP Staff