Perth Comedy Festival: Rhys Nicholson loves an ironic cheese toastie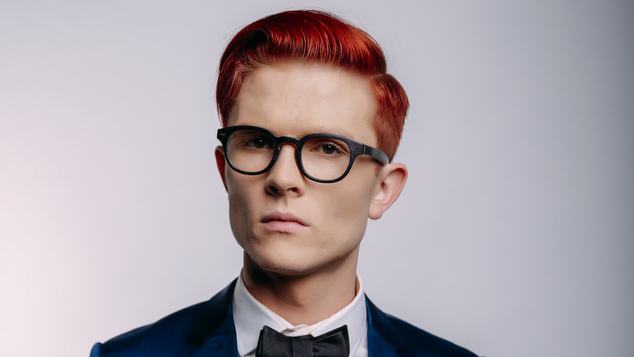 The hilarious Rhys Nicholson returns to Perth after two successful Fringe World runs with his latest full-length show, I'm Fine.
Having toured the world with his unique brand of comedy, and appearing multiple times on Australian TV, the comedian has formed a strong bond with his fellow queer comics (and jokes they have formed a coven on the road.)
We caught up with Nicholson to talk toasted sandwiches, gush over Gina Liano and dish on Perth's own Joel Creasey.
Your fellow comic DeAnne Smith mentioned a hotel you wanted to open together called Ironic?
Hell yeah! On tour, we'd started making toasted sandwiches in our shitty hotel rooms with the iron. It sounds gross but it's delicious… we'd do it with clean towels, you know, there was no iron-on-food action.
We were on tour for a long time so we'd started a running joke about this hotel called Ironic and the waiters were all called Iron Maidens and the motif was a laundromat. The ovens are all shaped like washers and dryers and you could do your actual laundry there as well.
There was also a cabaret venue there? It just grew and grew to the point where we'd be telling each other it was the best idea ever, then wake up in the morning and ask what the fuck we were talking about last night.
You had a show at Mardi Gras this year with our boy Joel Creasey but I've got to know – How was it working with Gina Liano?
Captivating! Now look, Joel and I are best friends but we have very different taste in television. I only know who Gina Liano is because she's in the zeitgeist.  I kept forgetting that under the big hair and sparkly dresses she is a star barrister.
She's so whip-smart. I met her half an hour before the show and she was so funny, knew exactly what to do on stage, she's an incredible talent.
Joel and I asked her if she'd ever made her cry on the stand and she looks up from her phone for a second and goes "aw, fuck yeah" and goes back to it. Nothing fazes her and she looks incredible.
So you and Joel get along? We're not going to see a season of Ryan Murphy's Feud on you two?
Years ago, before Joel was famous (which is something I forget until we go out and everyone wants photos) we used to pretend on Twitter that we hated each other.
I don't remember why but we used to have fights online but actually be texting each other saying "Good one!" We were just 18-year-old boys who wanted people to look at us.
If we were on Feud though, Joel would have to be played by Ellen DeGeneres. Me? A stack of chairs with a red wig on top.
Rhys Nicholson will be at Perth Comedy Festival from Friday May 11th – Sunday May 14th. Tickets and more information available from perthcomedyfest.com.au
Leigh Andrew Hill