Perth Fashion Festival Opens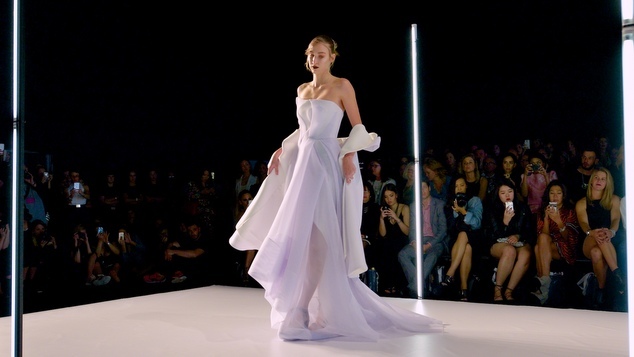 Dilettante Does What Dilettante Does Best
Last night marked the opening of Telstra Perth Fashion Festival (TPFF) 2015. Now in its 17th year, this juggernaut of style showed no signs that it's about to slow down anytime soon. In fact, quite the opposite.
This year it is being staged behind Perth Concert Hall, housed in the same magnificent tented pavilions you get at New York Fashion Week, which is simultaneously serving up style the same time as us here in Western Australia.
"Here," explained Lord Mayor Lisa Scaffidi (dressed in Alexander McQueen from boutique Adam Heath), "our narrative is one of style, connectedness & being on trend."
And while she then went on to quote TPFF head honcho Mariella Harvey-Hanrahan, who was quoted saying "opening nights are more about fashion than speeches", one couldn't help but agree with Scaffidi's sentiment, particularly when Dilettante's parade finally hit the runway.
Simply put: what a show. That pesky fourth wall that separates backstage from the frow (that's 'front row') was knocked down as the conceptual crew that are Dilettante showed us what occurs back there in an epic little black and white video.
TPFF x DILETTANTE // BACK STAGE from Dilettante on Vimeo.
A model is painted and quaffed, wearing just a denim skirt. She clutches a fawn leather jacket to her chest – as if it were a clutch, no less – as she is primped and preened before being counted down to round the corner and kick the show into go. And as she rounded that corner she walked on to the runway.
Genius. And such a thrill.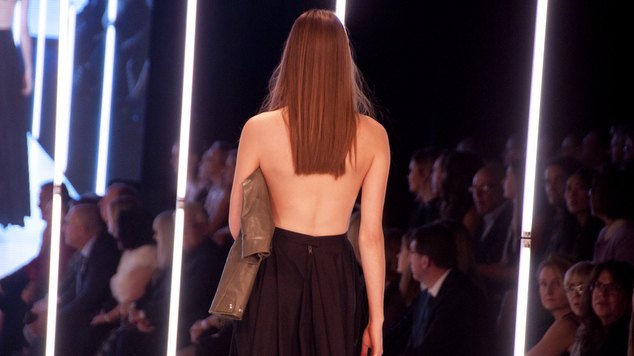 Yang Li opened. This ex-Perth pat is making it big internationally after studying at London's St Martins and even apparently gets his clothes produced at the same place Prada has theirs done. And you can tell – there's a sense of inherent luxury in everything Li showed.
Unafraid to be frayed, this season's clothes have a sophistication and ease as the billow and allow themselves to be boxy: huge flawed pants met box caped tops and a pleated asymmetrical bid gave the illusion of a bid. Neutral urban colours prevailed, although the multi-pocketed blazer-come-bomber and boyfriend shirt at the end of collection carried an allure and mystique.
Their charm was only surpassed by his closing look: a full length skirt revealed itself to be more an apron, although the overall effect was stunning, particularly because of the cognitive double-take it induced.
Rebecca Patterson's 33 Poets followed and the tone changed dramatically to one of rock 'n' roll. Beaded sheer dresses filled the runway with the thrill of frills, and a feminine charm appeared as the models walked with bodies seemingly studded in stars.
Patterson then showed us the cultural influence of her recent adventures as items inspired by India engulfed our imagination. Here, effortless elegance married a certainty in calmness. Tulle slips stuck themselves out from beneath skirts and dresses, articulating the whimsy of 33 Poets world perfectly.
Of course, Perth fashionista's who know their WA fashion know that Patterson delivers clothes that transcend trends to empower the wearer in ease, comfort and a brash splash of fun. Shabori prints and woven textures earthed the collection while an almost bridal sheer-topped beaded gown added that quintessential factor of 'wow'.
And that closing sari…double wow. Patterson is the new now.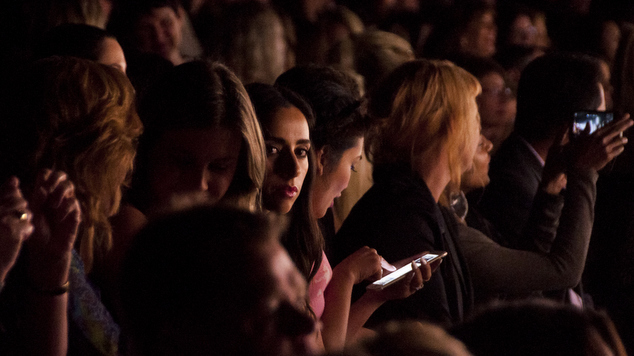 Closing Dilettante's runway show was Maticevski, whose close curl and unfurl in an architecture that articulates the female form with a graceful geometry. Monochromatic, the mastery that is Maticevki was apparent in every garment.
Pieces seemingly placed themselves back to front, with a capelet becoming a blouse that billowed at the back, exposing the entire curve of a model's eloquent spine. There was even a diamond print that appeared in a subtle black-on-black that sparkled like a diamond itself.
Epic…and if I were a woman, I would have racing down to Dilettante first thing this morning.
Mind you, I still might, if not to just to familiarize myself with the fantasies from last night, because that is what fashion should be: a desirable fantasy. And fantastic.
And Dilettante's opening show was certainly that, through and through: fantastic
Scott-Patrick Mitchell, lead image: Stefan Gosatti, other images: Graeme Watson
Check out the photos from the runway below.