Perth Homeless Support Group is making a difference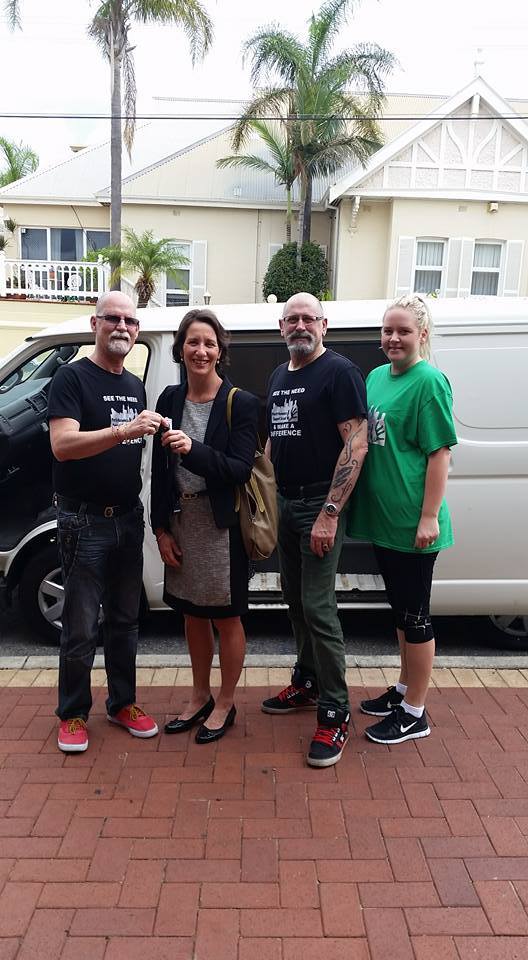 Over the last two-and-a-half years, Perth Homeless Support Group (PHSG) have been offering comfort and compassion to the homeless of our capital city and its surrounds.
Founded by partners and owners of Hair Boss salon Ron Reid and Michael Edwards, the community powered group have just received their first van from Ruah Community Services – a powerful tool for the grassroots organisation that grew from an incredible community spirit.
"This started on the 21st of January 2014," Reid tells me, "It was something that started when we would go into the city on a Friday night to have a meal together and we started noticing there were a lot more people begging on the street."
Reid says the ages varied from 12-year-old kids right up to people in their 60's and 70's, including people of all backgrounds and genders.
"We knew that there were other originations that were doing things but I didn't personally have knowledge, so I just set up a Facebook page and call it Perth Homeless Support Group. I added a few friends on a Wednesday night and when I woke up on Thursday we had 500 members."
After that outpouring of local support, Reid and Edwards had to make a clearer plan of how they wanted to move forward and mobilise this newly founded cohort.
"The first thing to determine was what the homeless actually needed. Most asked for change, but you also had boys complaining that they were thirsty in the January heat. We had noticed that at the same time ProAcqua had started putting their machines around the city."
The couple wrote to the aquaculture company and asked if there was a way this service could be offered to those who needed it. They quickly replied offering the PHSG 300 bottles to distribute along with some re-usable charge cards.
"By the time Saturday the paper must have gotten wind of it and by Sunday morning nearly 1800 members had joined the group."
Today, the group has over 8,500 members and the numbers are still growing. Though abundant in people-power, PHSG is run by volunteers so there are no coffers to raid for supplies or to fund programs.

"We didn't really want to ask any bodies for money," Edwards said. "We'd much prefer the community responding to it. We look at homelessness as a community problem. The government's side of it is just to build more affordable housing. They can't be out there looking after people who are falling through the cracks, that's up to the community and the local levels of government."
The pair recognise the limitations of local government and the minefield that politics can be.
"I don't know anything political other than when we go out there and hand someone some food – the smile on their face and their gratitude means a hell of a lot more than competition between local councils."
Though some may opine that a solution to homelessness is as simple as just 'getting a job', the couple dismissed the notion as reductive.
"If you've got mental illness, if you've got an addiction, if you've just lost everything… to go out there and look for a job is not on your agenda of important things," Reid says.
"Homelessness doesn't come with a face or a particular gender or a nationality. You can be one pay cheque away from being homeless."
The couple often direct those in need, or those looking to help to other organisations such as Ruah, Passages and the Freedom Centre.
"There's lots of organisations there, I just think people need to be made aware of them. Of course, if you want to help you can go on the street and speak to homeless people themselves," they tell me.
"We recommend people don't give money. Buy a sandwich and a drink and just hand it to someone in need. Money is usually to do with cigarettes or addiction… not that we blame them of course."
For those who want to get involved with PHSG specifically, they invite you to connect through the Facebook page and their website.
"The page on Facebook is an open forum for people to ask questions. It's not a forum for dictating religious or political views, it's about offering assistance and letting people know where they can be assisted."
To learn more about Perth Homeless Support Group visit perthhomeless.org.au or find them on Facebook.
Leigh Hill