Does Peter Rowsthorn Know More About Queer Stuff or Neil Simon?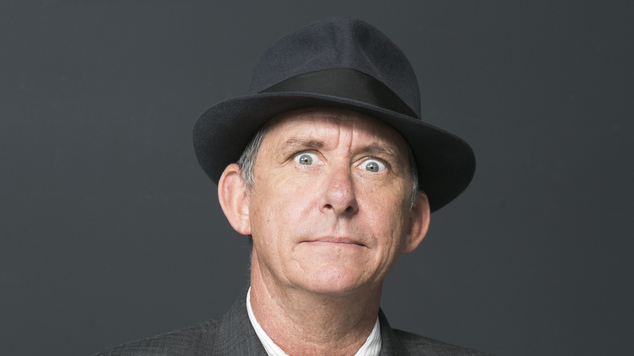 Actor and comedian Peter Rowsthorn is starring in Neil Simon's play 'Laughter on the 23rd Floor' at the State Theatre Centre, so we quizzed him to see if he knew more about the legendary writer or the queer community.
Let's start with the queer topics, if you were a drag queen, what would your name be?
Charmaine Woddam
That works. We would've given you Rose Thorn as well.
Do you know what a twink is?
Yeah, it's a confectionary.
Do you know what a mug is?
A mug is a really stupid gay man.
A really handsome gay man.
Like a trophy, a mug? Is that what it means?
It means you've got a good looking mug.
This is referred to as the alphabet soup, which is LGBTIQQAAPO, how many of them do you know?
Lesbian, Bi, Gay, Intersex…
The others were transgender, queer, questioning, asexual allies, pansexual and omnisexual.
Where is Connections Nightclub?
James Street, near Subway.
Let's go on to Neil Simon
Do you know what Neil Simon's real name was?
No I don't.
It was Marvin Simon. Do you know the names of the Odd Couple?
Yes, Felix and Oscar.
Do you know their last names? Bonus points!
Felix Unger?
Yes!
And I don't know the other one.
Oscar Madison.
In 1966 Neil Simon wrote the book for a musical. Do you know what the musical was?
Biloxi Blues?
Sweet Charity.
For which play did Neil Simon win the Pulitzer Prize?
Don't know.
Lost in Yonkers.
Thank you.
Robert Redford starred in the film 'Barefoot in the Park', do you know who played the role on Broadway?
Nathan Lane.
It was Robert Redford.
You actually know more about queer stuff than Neil Simon.
Catch Peter Rowsthorn in Black Swan State Theatre Company's production of Neil Simon's 'Laughter on the 23rd Floor' at The State Theatre Centre from September 6th, for tickets head to : www.bsstc.com.au