Karaoke good times with Philadelphia Grand Jury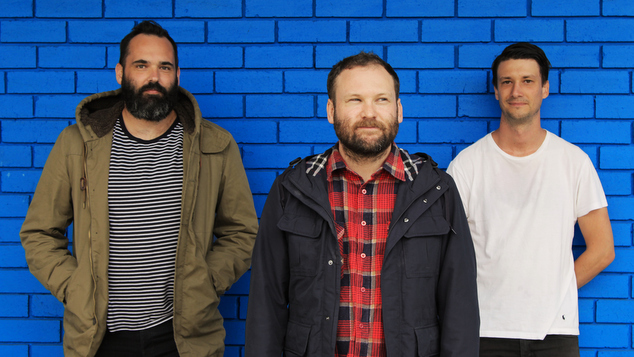 Philadelphia Grand Jury have never done things the conventional way, from launching their first album 'Hope Is For Hopers' by playing shows around Sydney on the back of a truck, to recording in a dangerously unfinished building site, to holding a listening party for their latest album 'Summer Of Doom' on a free bus around the city.
This Saturday they're in town at Jimmy's Den and the band are going to be creating their own karaoke bar. Lucky fans will be able to get up on stage and join the band to sing their favourite Philadelphia Grand Jury songs.  There might even be some classic karaoke covers thrown in there as well.
Graeme Watson put some karaoke related questions to MC Bad Genius.
What song should never be attempted in karaoke? (Personally I've learned not to choose La Bamba – it's in freaking Spanish and you don't actually really know the words)
Don't ever, never ever, EVER try and sing 'Hallelujah' at karaoke. It's completely the wrong vibe and there is no way you'll ever stand up to Leonard Cohen OR Jeff Buckley.  Please, I've seen this happen in the flesh.  It's no fun.
What did people do before karaoke?
They sat around a campfire with a guitar singing Cat Stevens and Neil Young.
Which Philadelphia Grand Jury song is the best to be sung ala karaoke?
It's gotta be 'The Good News', doesn't it? At least there'll be a chance of someone else in the room knowing that one.
For novices; What should you drink before attempting to sing in pubic, and how many of them should you have?
One cup of Lemsip ninety minutes before showtime will have you in mint condition. If you still manage to screw up, you've only got yourself to blame.
How strange are those little videos that go with karaoke, do those actors ever break out into real movies?
What do you mean, real movies? Sometimes when I'm singing karaoke, I get so caught up in the story on the videos that I have to skip a verse of singing to compose myself.
You spent some time in Berlin recording, what German artist would go down well at karaoke?
I've seen a middle-aged Indian lady who had never heard the song do an incredible version of 'Killing In The Name', so I'd wager a rather large bet that she would absolutely SLAY Rammstein.
Your new album is 'Summer of Doom' (is about 1994 when I just stayed in playing Doom on my PC?) No seriously what is the Summer of Doom?
Let's get serious here. Climate change is a real and very scary thing.  We've been smashing temperature records every year, every season, every month and if humans don't make a more concerted effort to fix it, things are going to get worse ie we're doomed.
Sure, enjoy how great it is to surf without a wetsuit in May and post photos to Instagram celebrating the ridiculously good weather, but just remember that it's actually because we've completely and almost irreparably raped the earth for everything it's got.  But like Prince (RIP) said, tonight I'm gonna party …
Catch Philadelphia Grand Jury at Jimmy's Den on Saturday night, Tickets from www.ticketbooth.com.au