The Pinnacle Foundation and Out For Australia tap into synergy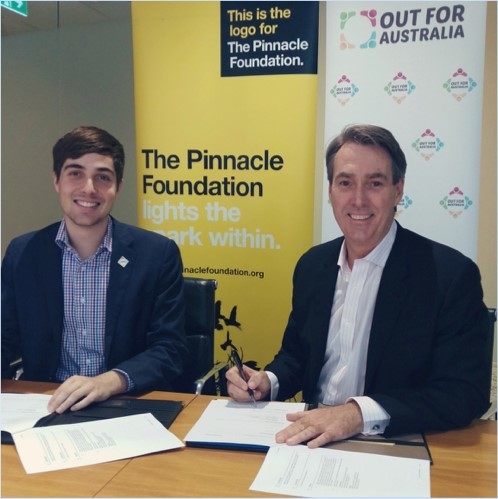 Two major LGBTIQ charities have signed a memorandum of understanding, agreeing to complement each other's work providing assistance to LGBTIQ students.
The Pinnacle Foundation and Out for Australia acknowledge the different and unique role each organisation plays in supporting the nourishment for LGBTIQ students.
Out for Australia CEO Matt Yeldham and Pinnacle CEO Sean Linkson agree that their organisations are complementary, but different in their approach. Out for Australia support and mentor young LGBTIQ professionals, while Pinnacle Foundation provide educational support and scholarships for marginalised and disadvantaged LGBTIQ youth.
"Together, Out for Australia and The Pinnacle Foundation can set a benchmark for quality in the LGBTIQ charity space to the benefit of young LGBTIQ people across Australia," Out for Australia's Matt Yeldham said.
"Our combined efforts in this space can make a significant impact on LGBTIQ students in tertiary institutions and workplaces Australia-wide."
The Pinnacle Foundation CEO Sean Linkson says the organisations can achieve so much more by capitalising on their potential synergies.
"I see many of our Pinnacle Scholars transitioning from students into exciting new careers with Out for Australia's assistance," Linkson says.
"Equally, we have a vast database of mentors around the country to potentially share with Out for Australia's students. Although our focus is on scholars at a slightly different stage in their student lives, our mutual aim is to nurture this amazing talent and ensure they are exposed to the greatest opportunities."
For more information on both organisations, head to outforaustralia.org and thepinnaclefoundation.org