Portrait of Courtney Barnett makes Archibald Prize final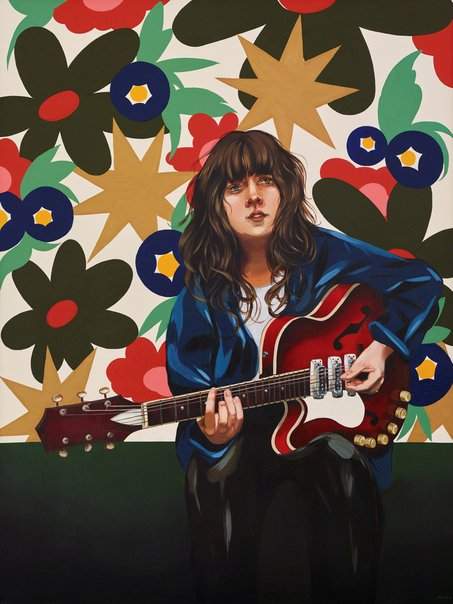 A portrait of queer indie music star Courtney Barnett is among the finalists for this year's Archibald Prize.
Barnett was captured by friend Melissa Grisancich who painted the ARIA award winning singer-songwriter after spending some time at the musicians home taking photographs and doing sketches.
"I'm a big fan of her music with its unique mix of rock, folk, indie and grunge." Grisancich said of her subject. "I also love her guitar playing, and see her as a strong representative of the positive shift happening for women in Australian music today."
Grisancich decided to focus on Barnett and her guitar, and the title of her work is Courtney Barnett and Her Weapon of Choice.
"Courtney was happy to sit, quietly playing a tune and looking around the room as if I wasn't there. She had a casual warmth about her that I wanted to capture," Grisancich said. 'Her music and witty lyrics are quite colourful, so I have used a lot of colour. The background is inspired by 1930s Australian art-deco patterns, which often feature in my work.'
Grisancich was born in 1987 in Mt Martha on the Mornington Peninsula, Victoria, and now lives in Melbourne. This is the first time she has entered the Archibald Prize.
The prize is the most competitive portrait competition in Australia and draws thousands of visitors to the Art Gallery of New South Wales each year.
The subjects in portraits can range from celebrities to politicians and fellow artists. The award is for the best portrait, "preferentially of some man or woman distinguished in Art, Letters, Science or Politics".
Other well known Australians depicted this year include recently appointed Chief Justice Susan Kiefel, academic Dr Susan Carland. actors Alison Whyte, David Wheham, and Guy Pearce, choreographer Meryl Tankard and author Richard Flanagan.
Comedian Peter Berner is also among this year's finalists with as self portrait. While he's best known for his satirical commentary on current affairs, Berner is a graduate of the National Art School.
The Packer's Prize, an award decided by the head packer who supervises the unloading of hundreds of entries to competiton, was given to artist Jamie Priesz who depicted rocker Jimmy Barnes as a boxer.
Take a look at all the finalists at the official website. The winner is announced on 11th May. 
OIP Staff
---