Review | 'La Soirée' never disappoints with the best cabaret in the world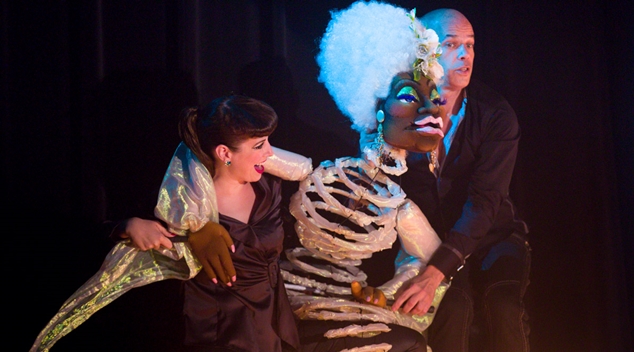 La Soirée | The Ice Cream Factory | til 3rd Mar | ★ ★ ★ ★ ★ 
La Soirée never disappoints, on its fourth Fringe World outing the world famous show returns with a brand new lineup of amazing artists and a few old favourites.
The producers for this show scour the globe looking for the most brilliant cabaret performers in existance and then package them up into a tightly paced presentation that holds your attention from go to hell yeah! From acrobatic feats, to laugh out loud comedic moments and eye-catching singers, the show always delivers on variety.
Puppets, pole balancing, sword swallowing, magic tricks, sultry singers, bodies being flipped, thrown and tumbled – it's a thrill a minute. The show is presented in the round with most of the action taking place on a tiny red stage in the centre of the Ice Cream factory. This ups the challenge for many of the acts, as they have just a tiny space to perform in and the front row and just centimetres away from the action.
This time round the line-up includes Cabaret Décadanse from Montreal. This puppetry duo were in the show the first time it was presented in Perth and it's great to have them returning. Their giant manipulated puppets required two puppeteers to bring their characters to life.
First up they presented their soul singer 'Slinky' who performed the uplifting If You Can Read My Mind. Later they returned with another character who brought I Can't Do It Alone from Chicago to life. Their third offering was a strip tease that no burlesque dance across all of Fringe World will be able to match.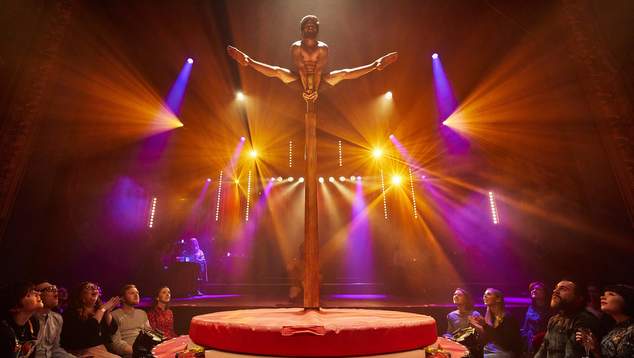 From Mumbai Mallakhamb India saw two performers doing something we've never seen before pole balancing. A giant wooden pole was erected on the tiny circular stage and performers Rajesh Amrale and Aakash Pilwalkar show off their extraordinary strength and speed.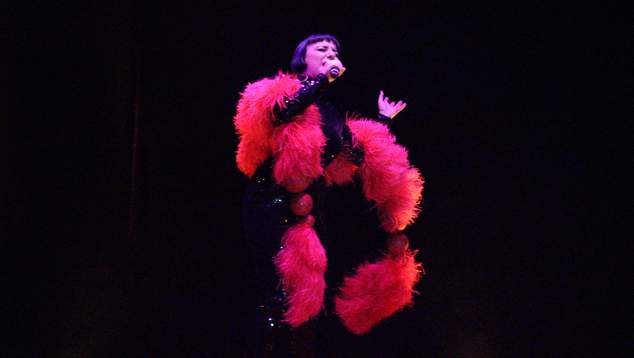 Singer Carla Lippis is quite different to the other singers who've featured in La Soirée in the past. She delivers dirty blues and rock n' roll accompanied by a solo electric guitar player. It's raw and guttural, completely different to the big haired divas who belted out uplifting numbers in previous outings. Clad in sequins and balancing on high heels Lippis is also incredibly funny and provocative.
Each year Fringe World seems to have an abundance of one particular ingredient whether it be disco balls, roller skating or gender non conforming burlesque, This year there's a few sword swallowers around, but Fremantle's own Lucky Hell is in a league of her own. The tattoo covered showgirl does a lot with a wink and a look before taking the art of sword-swallowing to the next level – one sword – too easy – Lucky Hell has an appetite for several.
Another returning favourite is Lily Martinez who performs an unforgettable act involving a red handkerchief. I've seen this act five or six times now, and it's always a riot. Even once you know the final destination – it's a mountain of fun watching the faces of new audience members.
The rest of the show is made up with contributions from mind-blowing acrobats, trapeze artists and the occasional special guest is thrown in too. On opening night there was a comical magic act.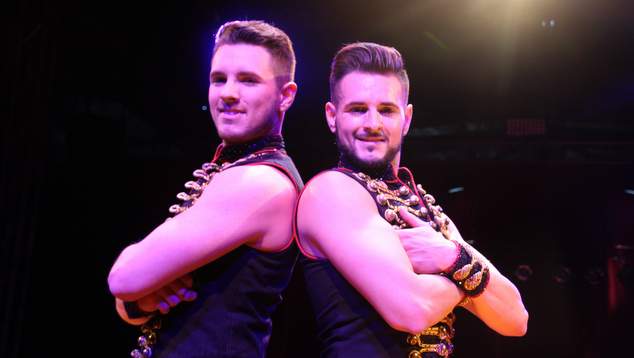 One of the highlights of this spectacular carnival is the final act, Italian brothers Alejandro and Ricardo Rossi, as Fratelli Rossi they are sixth generation circus performers and their act is truly mesmerising. One brother lies on his back and places his feet in the air, here he serves as a trampoline for the other to be thrown into the air.
The flying brother goes from lying to standing on his brothers feet in the air, he is tossed like a barrel and flung like a rag doll. It's astounding. We saw the brothers do their act perfectly at a media call before Fringe World got under way. They performed it flawlessly at the festivals official opening. On La Soirée's opening night, they fell – tumbling off the tiny red stage and towards the audience.
For a moment you might think this was a disaster, but it was a healthy reminder that while the brothers make the task at hand look flawless – it is actually incredibly hard.  The pair quickly got back to work, and the audience sat on the edge of their seats cheering them on!
It's a party every night, La Soirée is at The Ice Cream Factory until 3rd March.  Tickets at Fringe World.
Graeme Watson
---