Under Pressure: Bernard Curry spills on Wentworth Season 6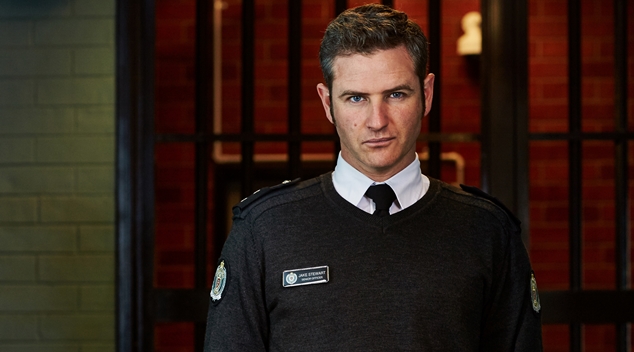 Prison drama Wentworth returns to TV screens this month and fans of the show have waited a whole twelve months desperately waiting to find out what happens next.
OUTinPerth caught up with actor Bernard Curry, who plays the thoroughly unlikable prison guard Jake Stewart, and pressed him for some insight into what Season 6 of Wentworth has on offer.
"I've taken a great amount of delight in playing Jake Stewart," Curry said. "He's got that duplicitous personality. I think that's a great word to describe him 'duplicitous' because he can be equal parts warm, open, charming and cheerful and then be equal parts dastardly and get to all kinds of nefarious deeds."
Since joining the show at the beginning of its fourth season audiences have watched the corrupt prison officer struggle to free himself of the influence of the manipulative Joan 'The Freak' Fergusson and been dismayed by his heartless treatment of prison boss, and girlfriend, Vera Bennett.
"The thing with Jake, I think the most pertinent word would be, that he's a survivor. He's also someone who is not afraid to take risks and make decisions that could potentially cross a line if he finds himself backed into a corner." Curry said, describing his character as someone who has a differently aligned moral compass.
Curry said there's a lot going on for his character in the show's new season, having rid the prison of The Freak at the end of the last season Jake realises he needs to make amends with Vera, and a change of character could see him becoming one of the good guys of the show.
"What we see with Jake though the course of this new season is him trying to make amends for some of those things he's done to Vera, and it's going to be a hard road and sometimes he slips back into his old ways."
Curry said he completely understands what it's like for viewers who desperately want to know what the next installment of the story holds, the actors on the show eagerly await each new set of scripts to discover what the next set of twists and turns will be.
"The writers never really tell us. They give us a virtual overview of each season's arc, but when each script turns up you don't know what your character will be doing."
For the actors on the show reading each new script is a similar experience to the audience's journey as they approach the next part of the story. "There so full of twists and turns, they're like a great crime novel." Curry said.
One thing the actor has been banned from doing is telling his wife what happens in future episodes before they go to air.
"I'm itching to tell her… but she insists she wants to see it as the finished product." the actor laughed, explaining his household's strict 'no spoilers' policy.
Prior to appearing in Wentworth Bernard Curry spent time in the cast of long running Australian shows including Neighbours and Home and Away, as well as finding success in US TV shows including Once Upon a Time, Pretty Little Liars, NCIS and CSI: Crime Scene Investigation, but he describes Wentworth as the highlight of his career to date.
"I can categorically say it's been one of the greatest experiences of my life, and that's on a personal level in terms of the work that I've been able to do, the scripts that we get given – which are really well thought out… and the people I get to work with.
"People like Pamela Rabe, Kate Atkinson and Robbie Magasiva and Celia Ireland, these are all people which are just at the top of their game and I get to walk in and sort of dance with this people, and I get to call myself a peer to those guys." Curry said describing the show's cast as one of the best on television.
One thing we can be assured of is that Jake Stewart will be causing trouble inside the walls of Wentworth for some time yet. While the show's sixth season is about to hit the screens the actors are already back at work filming the seventh season which is expected to air in 2019.
Wentworth returns to Foxtel's showcase channel on Tuesday 19th June. Listen to our whole phone conversation with Bernard Curry – at our 'On the Line' podcast. 
Graeme Watson