Pussy Riot and Amnesty Intl to rally for Chechnya's LGBTQ+ community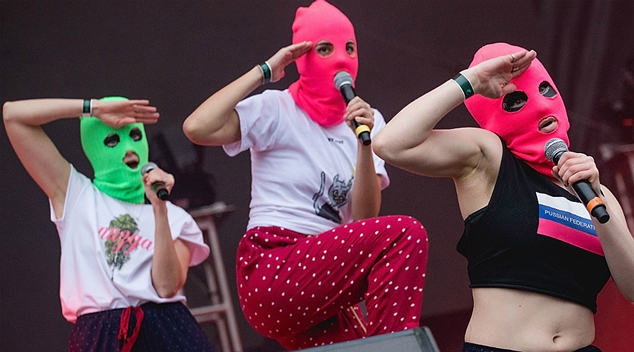 Iconic Russian feminist punk rock performance art collective, Pussy Riot, will join Amnesty International Australia to call for justice for the Chechen LGBTQ community at a rally at Parliament House tomorrow from midday.
Amnesty International Australia Advocacy Adviser, Joel Clark, says "Being gay in Chechnya can get you abducted, tortured and possibly killed. We have verified reports that more than forty gay and lesbian men and women have been rounded up by Chechen authorities, held and tortured in government buildings. Two people have been killed in the past month.
"There are now reports of families being offered rewards for killing LGBTQI family members and showing evidence to the government. This homophobic and barbaric crackdown is worsening; Putin's wilful ignorance to the situation is giving Chechnya the green-light to continue".
Pussy Riot, who are in Adelaide for Adelaide Fringe Festival, will be donning their famous balaclavas and joining local queer activists to call on the Australian Government to increase pressure on the Russian Government to take immediate action to protect the Chechen LGBTQI community. Almost 17,000 Australians have called on Russia to intervene.
Earlier this year, new reports emerged that queer citizens were being detained in the Russian province, following initial reports in 2016 that as many as one hundred people had been imprisoned on the grounds of sexuality. Chechen authorities deny the reports, brazenly suggesting that the missing people were murdered by their own families.
Despite people coming forward and discussing their experiences of being detained and tortured, and some evidence of people being murdered, an official investigation by Russian authorities found no evidence that any of the reported incidents had occurred.