Reactions to Conchita Wurst's Eurovision Win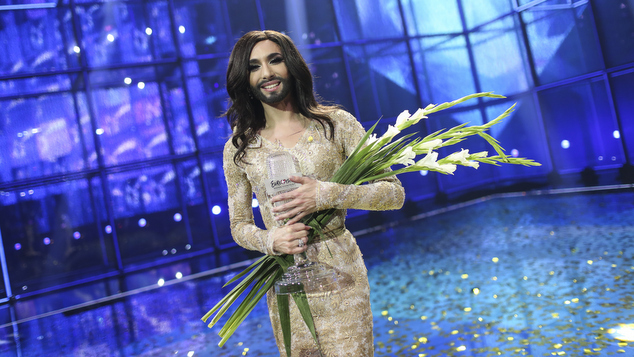 The 2014 Eurovision Song Contest reached its conclusion last weekend, with many celebrating this year's competition as one of the fiercest yet. Drag artist Conchita Wurst won the 2014 Eurovision Song Contest for Austria with her triumphant ballad 'Rise Like a Phoenix', securing her victory before all the votes had even been counted.
'Rise Like a Phoenix' is a defiant song about defeating expectations. Wurst said in an interview with Reuters that her beard "is a statement to say that you can achieve anything, no matter who you are or how you look" and spoke out about her experiences growing up as a gay teenager in a small Austrian village.
But not everyone was thrilled by Wurst's victory, marking the Austria's second-ever win in the competition's history. The singer had faced a great deal of controversy since she was introduced to the competition, and people in Belarus, Russia and Armenia petitioned to have her removed from the competition.
She's also faced criticism from her fellow competitors, with Armenia's Aram MP3 saying that her lifestyle was "not natural" and suggesting she should decide to be either a man or a woman. Wurst responded that she was simply "just a working queen and a very lazy boy at home." Aram MP3 since apologized for his comments.
Wurst's win has been hailed by some as a victory for LGBTI acceptance. Such a viewpoint would fit the tone of the competition, with spectators booing Russia in protest to President Putin's controversial 'gay propaganda laws'.
Now that Wurst has secured victory, the world has exploded in response. Here's what people are saying about Eurovision's 'bearded lady':
UK newspaper The Sunday People have since deleted the above tweet stating that they were "genuinely sorry" if their remarks had tarnished "a spectacular, landmark Eurovision victory by Conchita."
"There is no limit to our outrage.
"It has turned wild. There are no more men or women in Europe, just it.
"[It is] the end of Europe."
According to the Mirror, former Speaker and Russian MP Vladimir Zhirinovsky made the above remarks about the Russian government's response to Conchita Wurst's victory. He also added:
"Fifty years ago the Soviet army occupied Austria. We made a mistake in freeing Austria. We should have stayed."
Russian politician Vitaly Milonov previously labelled the contest the "Eurovision sodom show" in regards to Wurst's entry into the competition, and called for the country to boycott the contest.
Despite a number of homophobic and transphobic comments, Wurst's performance also attracted an outpouring of support and love. Conchita won the hearts of many, who took to Twitter to express their adoration:
"IDK what Conchita Wurst's gender identity is. That's the *point*. We don't know and it shouldn't matter. We should accept her anyway."
– Sarah @wordgeeksarah
"Well done and Austria. How satisfying to know that Putin and Russia will have seen her win. "
– Andrew Hayden Smith @AndrewHaydSmith
A number of fellow drag queens, well known RuPaul's Drag Race competitors tweeted their support:
"Congrats on winning Eurovision 2014!!!"
– Pandora Boxx @ThePandoraBoxx
"ConDRAGulations on winning WERRRK DIVA"
– Manila Luzon @manilaluzon
There have also been a number of people lobbying for Conchita Wurst to sing the next James Bond theme. A number of people have also predicted that Wurst's iconic look will become fashionable amongst the wider public:
"Dreading seeing 'the Conchita Wurst look' that's now surely coming among some of Melbourne's hipster community."
– Shane @seoidau
"More reason to love Conchita Wurst. Ladies, next time you have a breakout, all you have to do is draw on a beard. It's totally allowed now."
-Nerina Pallott @ladychatterly
 But none said it better than Miss Wurst herself when she tearfully accepted the Eurovision trophy on behalf of Austria:
"For me a dream came true but for our society it shows there are people out there that want to go on and not step back into the past. I'm so thankful. I think we said something tonight. It's not just a victory for Austria, it's a victory for love and tolerance.
"I cried because I am so happy and beyond thankful. I said to myself just this one time let me be the one with the gold. I don't know who I have to thank but… I'm speechless."
She also had this to say to President Putin: 'I don't know if he's watching but if so I think I said it clear on stage. We are unstoppable.'
Sophie Joske