Review | 'Red Light Confidential' brings the best of burlesque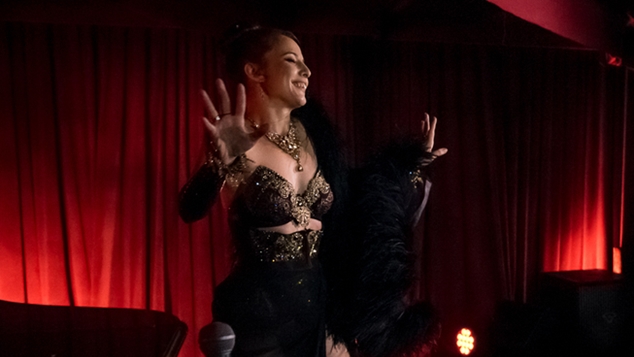 Red Light Confidential | The Ellington | til Feb 11 | ★ ★ ★ ★ ½ 
Previously a Perth Fringe staple, Red Light Confidential had their appearances axed with the appearance of COVID-19 in 2020. This year celebrates their triumphant return to The Ellington Jazz Club, an intimate and ideal setting for the performers of tonight's show, with their 12-year-strong show, originally produced underground to give the 'freaks', burlesque and carny folk, a stage.
Produced by Red Right Hand Entertainment, in the capable hands of Kelly Ann Doll and Michael Wheatley (Sydney), Red Light Confidential is a variety show with an ever changing lineup. Highly respected in the burlesque and arts communities, Michael and Kelly Ann bring their own talents in performing and producing to this well-known show, and have made their mark on cities around the country showcasing some of the best and brightest from each city.
Michael, our debonair host for the evening, opened the show, performing a delicious number on the resident grad piano. Live music is always a fun addition to a cabaret show, and Michael gave us the best of his talents, with smooth tones, a story that made us giggle and blush, and including local innuendo – Michael grew up in Perth, and sharing some of his local knowledge won over even the most reluctant of audience members. Michael kept the show moving at a great pace, using not only performer introductions but audience asides and jibes to engage and tease throughout the night. It was clear to everyone that not only was Michael a talented musician and singer; his cabaret and hosting skills are exceptional – showing why he's so respected and admired in the industry. We were treated to not one but two musical interludes from Michael during the show, both flawless in execution and playful in narrative.
With a rotating performer lineup, Red Light Confidential gave us not only interstate and visiting performers, but home gown beauties as well. This variety gives a great experience every time for every crowd. As the performer lineup changes nightly, it's important to recognise the sheer expanse of talent, not only onstage during this show but available for a show of this magnitude. Performing at Red Light Confidential is a goal for many performers and it was wonderful to see some home grown talent up there with the best of interstate.
Autumn Daze, opening the show in a sensational sunset-coloured ensemble, was an absolute vision, giving us theatricality and tease with a giant feather boa. It's never easy to open a show, but Autumn pulled through and showed why she's a staple in the Perth burlesque community, delivering tease, smoulder, and whole lot of skin, for which the audience went crazy! Adding variety to the show, Shauna Johnson performed an acro/contortion number, having the crowd gasp more than once. We got excited with the suitcase onstage, thinking she might contort into it; however, it didn't end that way, dashing our hopes. Regardless, Shauna's talent is undeniable, and a welcome addition to the lineup.
When we think of burlesque and drag talent we've lost to the eastern states, Ruby Slippers springs to mind. Tonight, though, Ruby had the whole audience up and moving, including Mama Slippers, and Ruby taught us a slightly awkward but hilarious dance that even the hesitant audience members participated in! Finally, before intermission, sideshow queen Sian Brigid gave us burlesque, tease and sword swallowing in an act that was sexy, shocking, and disturbingly arousing. With that on our minds, we broke for an intermission, unconventional for a Fringe show, but welcomed for libations from the crowd, who seemed to be warming up to the entertainment.
After intermission we welcomed another local stunner, Lotta L'Amour, in a sensual spider act – sparkles, flexibility, grace and character abound in this gorgeous routine. Lotta is an undeniable talent who excites every time we see her perform onstage. Adam was next onstage, a fabulous yet 'clumsy' starlet hailing from Melbourne. He was undeniably the most fashionable, his "Femme" costume fitting him perfectly, adding fuel to the fire as he flirted with cast and audience members alike. Adam was spellbinding, and I found myself staring more than once at the beauty, the presence, and the tease that he presented.
Crowd favourite of the night was a hard choice, between Trigger Happy and Kelly Ann Doll. Performing a routine from his hit production "Swamplesque", Trigger gave us everything we never knew we needed from an ogre. From hilarious facial expressions, unexpected costume reveals, and gorgeously grotesque hip thrusts, Trigger had everyone laughing, applauding, cringing, snapping and hollering as he gave every ounce of energy to our favourite green swamp ogre. When the routine finished, it never felt like enough, and we craved more!
With the final performance from Kelly Ann Doll, we got the more we asked for. Starting as a sensual slow burn, this minx took us on a wild ride… from innocent burlesque babe, to sexual seductress… then to drunken diva? There wasn't a safe bottle in sight, and after libations from the audiences, Kelly Ann Doll had tongues lolling and clothes flying – literally! Her costumes, decadent and opulent in design, went flying from front to back of the Ellington as she disrobed, tormented, shimmied and sashayed to the close of the show. A fabulous high to end on, and leaving more than one person opening their phones to follow her socials.
Red Light Confidential remains one of the best burlesque shows in the country, and with lineups like this, it's safe to say that they're not only here to stay, but here to entertain. If you're looking for a raunchy, debaucherous show that's equal parts filthy, sexy and hilarious, then follow Red Right Hand Entertainment for their next instalment, and catch Red Light Confidential while we're lucky enough to have it back in Perth. A highlight, for audiences and performers alike, that I can't wait to see again.
Red Light Confidential is playing weekends at The Ellington until Saturday 11 February. For tickets, head to fringeworld.com.au
Kiera (they/them) is a passionate arts creator and consumer, especially in the fields of cabaret and burlesque. Combining 20+ years of arts experience with numerous research and education-based qualifications, they enjoy sharing their knowledge and experiences.
---

You can support our work by subscribing to our Patreon
or contributing to our GoFundMe campaign.