Retro Cassette Friday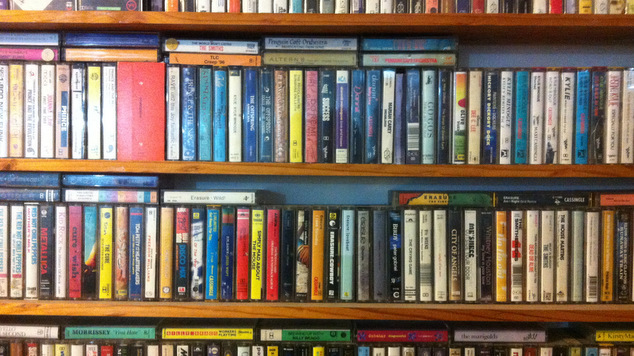 As has become our tradition of a Friday morning in the OUTinPerth office, we grabbed some old cassette's from the shelf and took a trip back into the musical past.
This week we discover a great electro Australian act, some modern classical and a band who shared the stage with Madonna at Live Aid.
Thompson Twins, Here's to Future Days
Festival, 1985
The trio of Tom Bailey, Allanah Currie and Joe Leeway were huge in the mid 80's. By 1985 they'd scored major hits with 'Hold Me Now' and 'Doctor Doctor', but they might be remembered most for their massive crazy hair styles.
In 1985 they performed at Live Aid. Joined by guitarist Nile Rodger's and Madonna they delivered a cover of The Beatles ' Revolution' – a noisy guitar driven version of the song that signaled the band were heading in a rockier direction. The lead single 'Don't Mess With Doctor Dream' was about the dangers of heroin, and follow single 'King For A Day' did well on radio. The rest of the album is a bit forgettable, but there are some interesting remix/ instrumental versions of some of the tracks, which was a bit "ahead of their time" in the mid-80's.
Leeway quit the band after this album, Bailey and Currie wed, and continued on for a few more records. They then moved to New Zealand and changed their name to Babble, and released electronic records in the 90's. They wrote Deborah Harry's big hit 'I Want That Man'. The couple have since divorced and Currie is now married to Jimmy Cauty, one half of the KLF. She's now an award winning creative furniture maker in the UK.
Vita Beats, Spot the Spanner
1985
This album is a lost classic. The lead single 'Boom Box' is catchy as hell and comes from a time when everyone had massive 'boom box' portable radios and lived in constant fear of the world ending via a nuclear war. This album is slick, aside from the lead single, they follow up 'Audrey Hepburn' is also a great electro number. It's no wonder that some DJ's love to drop tracks from this album  into their sets it's superb.
 Philip Glass, Solo Piano
CBS, 1989
Of all the different works made by modern classical composer Phillip Glass, 'Solo Piano' stands out for it's simplicity. Side One contains the five parts of 'Metamorphisis', while the B-side has two long tracks 'Mad Rush' and 'Wichita Sutra Vortex'. It's dark, foreboding and repetitive. It's a great piece of music to listen to alone in a quiet room when you want to spend some time contemplating life. Gay Australian artist Sally Whitwell won an ARIA a few years ago for her recording of the work.