Retro Cassette Friday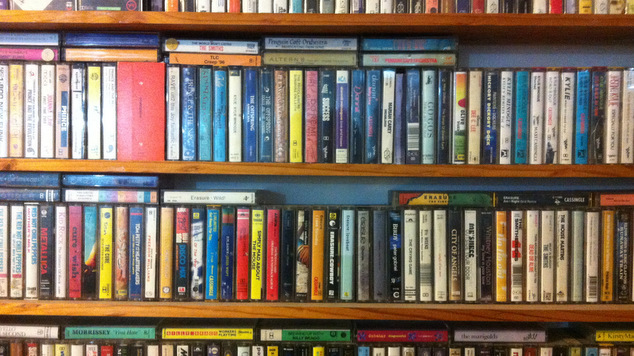 It's Friday so we've pulled three more cassettes from decades gone by off the shelf and slipped them into the trusty cassette player.
Bow Wow Wow, Your Cassette Pet
EMI, 1981
Bow Wow Wow formed when Malcolm McLaren persuaded the 'Ants' from Adam and the Ants to abandon Adam and become their own band, 13 year old wild child Anabella Lwin was put in the lead singer, and for a while they considered taking Boy George on as a second singer, but then they decided he was a bit too wild.
Their music is a combination of manic Barundi style drumming, funky guitars and Lwin's squealing vocals. It's very sexual, one OUTinPerth team member dubbed it 'pop porn'. It's a little but punk and very messy but lots of fun. The highlight tracks are 'Sexy Eiffel Tower', 'Radio G String' and 'I Want My Baby ion Mars' They also do quite a nice version of the standard 'Fools Rush In' – which was remixed by Kevin Shields from My Bloody Valentine for the 'Mary Antoinette' soundtrack many years later. The band would go on to have a massive hit with 'I Want Candy' a few years later.
Animation – Self Titled
Mercury, 1984
Animation were a one hit wonder with their song 'Obsession' which is basically the only good thing on this album. The hit track was written by successful songs writers Holly Knight and Michael Des Barres, the rest of the album written by the band is boring 80's rock.
Vegas – Self Titled
Foundations Records, 1992
This is a band that appeared and disappeared in the blink of an eye in the early 90's. Former Eurythmics member Dave Stewart teamed up with vocalist Terry Hall from Fun Boy Three and The Specials.
When this album came out it was a total flop, but maybe it was just band timing because it's nice collection of electronic pop songs. Halls distinctive vocals filled with morose tones suit these  grown up songs about love and loss. The final track is a cover of the Charles Aznavour song 'She' which most people would recognise from Elvis Costello's version with was included on the soundtrack to the film 'Notting Hill'. It's interesting that one half of the Eurythmics has recorded this track, because fellow Eurythmic Annie Lennox often includes it in her live sets too.