Retro Cassette Friday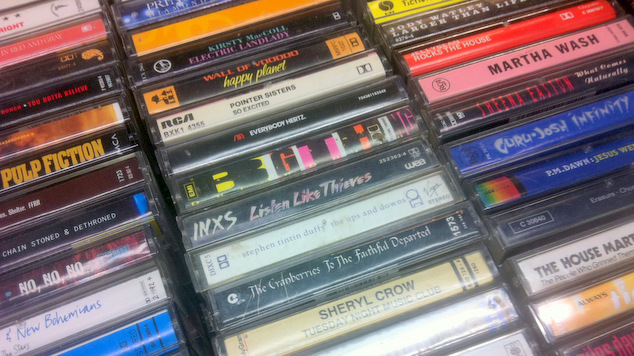 Strap on your cool kid shoes and gird your loins for the kaleidoscopic aural assault that is: Retro Cassette Friday!
Wham!
Fantastic
1983
This week opens in onomatopoeic splendour with none other than anyone's favourite anything ever: Wham! Don't be fooled by the raw, dark sensuality of Andrew Ridgeley's distracting chest hair on the cover, this record is a meticulously produced shiny-pop masterpiece. This album is the sonic equivalent of rolling around in a bath tub full of gummy bears, and by Christ does it feel good. It also serves as an important historical document chronicling George Michael's humble beginnings as a rap artist in "Wham Rap! (Enjoy What You Do!)" which is a big hit at the OUTinPerth office. I will personally always get behind a song that includes the lyrics "Wham! Bam! I'm a man!" and our much esteemed editor Graeme knows all the words which is a fact that I am duty bound to report on as part of my journalistic integrity.
Sinitta
Wicked
1989
Things get even more camp as we journey ever further into pop music's dark heart. This album delivers exactly what it promises in its cover. Almost every inch of her skin is covered in leopard print, from her thigh-high boots to her elbow-length gloves, and she's also carrying a leopard print jacket over her shoulder just in case. If you look carefully you can see the peak of a leopard print cowboy hat atop her impressive mane of windblown curls. She sounds pretty pleased with the results, as every track seems more cheerful than the last. "Love on a Mountaintop" is a fitting title for the Everest of glorious eighties nonsense. Check out the video for some excellent skiing-related dance moves and wonderfully impractical winter wear. I really enjoyed this album but it feels weird to imagine someone singing and dancing so merrily whilst draped in the pelts of half the murdered Amazon.
Fun Boy Three
Waiting
1983
This was a real mood change after Sinitta's borderline psychotic cheerfulness. This album is very dramatic and reflective. Its opening number "The Tunnel of Love" sounds like the soundtrack to a tango between two sad clowns. It's a lot of fun to hear ska songs about nervous breakdowns sung in a cockney accent. I could picture this whole album being performed onstage as some sort of bizarre opera situation with everyone's faces painted up like mimes, but that could be either a reflection on the music itself or the amount of sleep I've had this week. The album finishes with "Our Lips Are Sealed", which was co-written by the band's leader singer, Terry Hall, and was originally recorded by The Go-Gos in 1981.
Sophie Joske