Retro Cassette Friday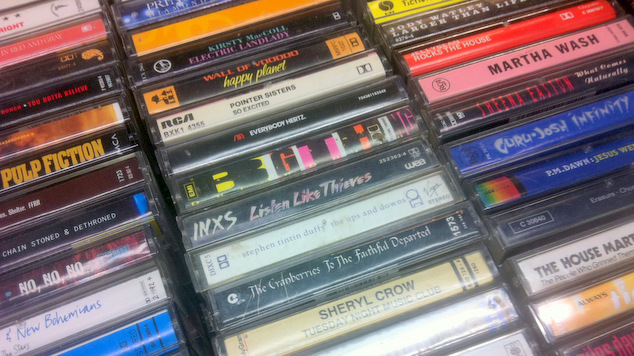 Strap on your protective headgear and stretch out your hamstrings in preparation for yet another journey into the dark, mysterious and occasionally bespandexed forest of time courtesy of Retro Cassette Friday! This week we have yet another three samplings of auditory resplendence from years gone by that will deliver the aural pleasure you so sorely need.
Pseudo Echo
Love an Adventure
1985
This week the adventure begins with none other than Pseudo Echo, the Australian band that is most famous for their cover of "Funky Town". This album features the same giddy synth madness that made that track so popular. It's full of frenetic keytar and drums. The track "Living in a Dream", with its sweet sweet horn section, sounds like the type of thing that would be playing as you kick down the door of the Principal's office, peel off his mask to reveal he's an alien from the Planet Blargon-7, explode his head with a laser gun and then ride your shiny red motorbike into the sunset, the tendrils of your mullet gloriously flowing in the wind and the arms of a free-spirited  girl with an asymmetrical haircut and an impractical amount of jewellery held tightly around your waist.
Babble
Ether
1996
And so we venture merrily into the nineties, and our esteemed editor Graeme finds amusement in my youthful inability to tell when a cassette tape is fully rewound. After working through my technical difficulties, we ventured into the ambient trance offerings of Babble. Some diligent Googling revealed that this outfit contains two members of the popular British new wave group The Thompson Twins.  This record was a little jarring with the atmosphere of the OUTinPerth office because we didn't have any incense to burn and I couldn't convince anyone to meditate with me. Apparently everyone was too busy "working". Selfish bastards. Check out "Into Ether" if you need a soundtrack for your next weird tantric sex party.
Neil
Neil's Heavy Concept Album
1984
I am simultaneously amazed, delighted and perplexed by the fact that this record exists. This is the musical debut of Neil, everyone's favourite perpetually despondent hippy from the classic 1980s British comedy The Young Ones. After explaining that the album was "a real hassle to make" and that it has "to much technology and commercial stuff", Neil embarks on a number of bizarre psychedelic adventures, including accidentally eating a hamburger and becoming a barbarian and having a romantic tryst with a girl in a golf course, only to find she's actually his fairy godmother who then threatens to have him arrested for indecent exposure. The track "Hole in My Shoe" reached number 2 on the UK charts and was performed live on Top of the Pops. To be quite honest, this album is a lot more musically solid than it logically should be. It's a spoof album made by a sitcom character who sings about his relationship with his bicycle. It should not be good. But it kind of is. The climactic metal track "Lentil Nightmare" features some awesome falsetto by the man himself.
Sophie Joske