Retro Cassette Fridays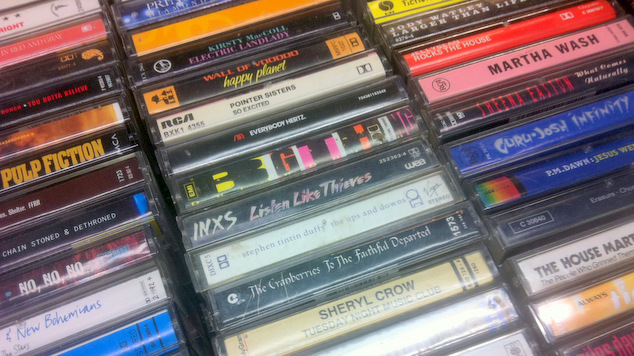 Welcome to our second installment of Retro Cassette Fridays! Each week in the OUTinPerth office we'll slip on three albums from the past. We've got a box of filled with 156 releases of yesteryear to work our way through during 2014.
Prince & the New Power Generation
Diamonds and Pearls
1991
The thirteenth studio album by His Imperial Purpleness is first to give his band, The New Power Generation co-billing. It features some of Prince's best tracks, including the U.S. number one 'Cream' and of course, the title track 'Diamonds and Pearls'. The album's opener 'Thunder' provides a theatrical opening while 'Strollin'' has a more laid back, almost 1950s feel that has illusive traces of a doo-wop vibe. It doesn't get better, however, than the explosive 'Get Off', the lyrics of which are just as erotically charged as its heavy beat.
Pulp Fiction
Original Motion Picture Soundtrack
1994
While Pulp Fiction will always have its place in film history, its soundtrack is a classic in its own right. Featuring such heavy hitters as Al Green, Dusty Springfield and the legendary Chuck Berry, the album is a winner from start to finish. It also includes some of the most iconic selection of dialogue from the film such as the introduction to Jack Rabbit Slim's Twist Contest and Samuel L. Jackson's infamous delivery of hitman Jules Winfield's favourite Bible passage: Ezekiel 25:17. Its crown jewel is Kool & the Gang's 'Jungle Boogie' which is scientifically proven* to be the funkiest song of all time.
De La Soul
De La Soul is Dead
1991
De La Soul's second album following their highly successful debut Three Feet High and Rising is full of the humour and energy that they are known for. The introduction sets the scene of an audio book designed for children, using sound effects to tell the reader when to turn the page. This use of comedy is filtered throughout the album in the form of brief 'skits' in between tracks. The most notable tracks from this solid catalogue of hip hop is the 90's answering machine classic 'Ring Ring Ring (Ha Ha Hey)' and the groovy 'A Roller Skating Jam Called Saturday.'

*May not be based on actual science.
Check out other posts in this series
Sophie Joske