The Return of Patrick Wolf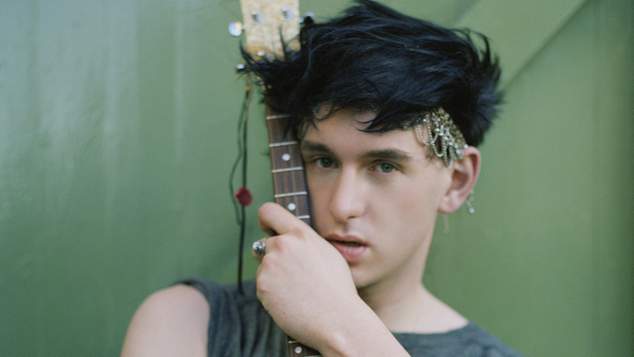 Patrick Wolf was a prolific musician. Between 2003 and 2012 he released six albums of material, music that ranged from electronic pop to baroque chamber music. He was a camp creative renaissance man.
In 2012 he put out Sundark and Riverlight, an album that saw him revisit many of the songs from his earlier records, giving them new treatments, and encapsulation of his career to date, and then he disappeared.
"The last thing I did was the Sundark and Riverlight tour," Wolf told OUTinPerth during a phone catch up, "It was this medieval and acoustic evening which for me was putting an end to a body of work. I planned to take a long break after that."
Wolf's break ended up being much longer than he'd originally anticipated. "I had a series of unfortunate events, which will be detailed in the next album and the message from all that healing and growth will be coming soon."
During his time off Wolf took time just to be himself away from the hectic grind of releasing albums and heading off on tour.
"I had a lot of healing to do, I had a lot of health issues that had gone on through a very long period my twenties and it was time to sort that out. My mother's been ill, and there's been a lot of bad luck around. I needed to give back to my community and heal, so I could be Patrick Wolf again.  
Wolf shares that in his mind he just put his career in a mental box and didn't worry about it. "I didn't go on social media for like two years, when I finally sorted out my health issues and went back, it is a beautiful thing to discover that the work has legs, and it's still running around in people's heads."
After a long hiatus, Wolf has slowly been returning to creating and performing music.
"I built a studio in South London, which I cycle to everyday, I've got a little bunk bed there, sometime I sleep over and work through the night. I write a lot of poetry."    
Last year Wolf was awarded a prestigious arts medal from Trinity College in Dublin and event that saw him perform a show completely solo. Now he's bringing that performance to Australia for an east coast tour.
While he's here he'll also been joining a performance of 'The Australian Songbook' as part of the Commonwealth Games celebrations.
"I'm not allowed to give the song away… but I'll be me and Peaches and we're going to be doing a very Australian duet. It's all very folk based and I'm trying to find me inspiration from the non-obvious parts of Australian music." Wolf said.
Despite intense questioning Wolf would not reveal what tune the pair would be tackling but did say, "Me and Peaches, we're not doing Especially for You'.    
Wolf called us from London, where it was well after midnight. "It's my kind of time" he declared. "I don't really start working until it's dark, so Australian interviews really suit me, if you'd called me at nine o'clock in the morning we'd be having a very different conversation."
New music is on the far horizon, Wolf shared that he's at the beginning of that creative process.
"The big shutdown for me is that when I make an album I can't listen to any music at all. It has to come from an internal space, so [for inspiration] I tend to look outwards, I look to art, and poems, and writers. I do everything but the musical.
"I bought T.S. Elliot's The Wasteland in hardback, its only like 20 pages, but I've been going on long walks with it and meditating on it." Wolf said.
"During the whole Patrick Wolf era, all the way up to Sundark and Riverlight, there was never any time to pause, never time to breathe, no time to digest other people's work."
Patrick Wolf visits Australia this month, tickets are available from Ticketek. 
Graeme Watson
---