Review | 'A Space Oddi-Tease' is out of this world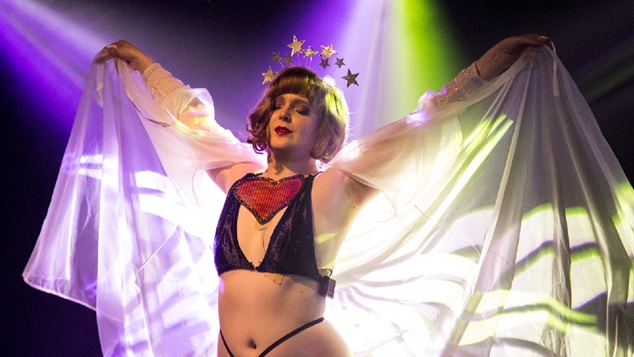 A Space Oddi-Tease | Rosemount Hotel | ★ ★ ★ ½ 
Intergalactic travel, aliens and spaceships mix with song and dance in this production from Perth performance school Lady Velvet Cabaret. With their troupe and teachers featuring in the show, a combination of talents was used to tell the story of two struggling artists to get to Viva Las Venus for their next gig.
Lucinda Panties and Cece Desist shared the compere role during the show, relying on slapstick comedy, mime and imagination to bring the audience into the narrative. At times they missed the mark, dropping their scripted lines and causing the story to stumble, however they eventually got us back on track and travelling the Solar System. They are both undeniably talented, and an encouraging audience helped them over the roadblocks. As they introduced each performer from a different part of our galactic journey, we were taken from planet to planet to meet the performers.
Each performance was loosely tied into the space theme, with some of the storylines a little stretched for inclusion in the show. As standalone performances, however, each performer bought a unique talent set to the stage. The beginning duo, of Candy Cheeks and her masculine victim, implied what we all think about when we think aliens – Anal Probing. The duo were animated in their acrobatic agility, with Candy (as the alien) seducing the unwilling male into some anal antics. They didn't take it as far as one might expect in a burlesque show, however the novelty of a duo opening the show forgave the expectation.
Where some of the routines missed the mark, Magic Mike Wazowski was pulled off perfectly by Miss Boujee B. She conveyed the essence of these two polarizing opposites, with clever voiceovers from the movie to sell the alien Mike Wazowski to us – before an electrifying performance as Magic Mike, which was clearly well researched and rehearsed. Boujee is a fabulous performer and this routine may yet be one of her best. Similarly, Gigi Love performed what has come to be her signature style of sex and stunts with an energetic Rob Zombie number. Gigi proved that Mars really does need women – angry, red, women – and so do we. Finally, Lola Moore enchanted as a luminous chorine, not only shimmering onstage as a stunning showgirl but lighting up the Rosemount with some clever installations of LED lighting on her costume. Her use of light whips as poi was particularly skillful and a crowd-pleaser, another facet to the talent that Lady Velvet produced for this show.
With an out-of-this-world theme, A Space Oddi-Tease is a great introduction to the burlesque world for the more mild-mannered fan. Whether you're going for the theme or the art, you'll find something to enjoy in this varied lineup of talent.
A Space Oddi-Tease has ended, but you can keep up with Lady Velvet Cabaret on social media.
Kiera (they/them) is a passionate arts creator and consumer, especially in the fields of cabaret and burlesque. Combining 20+ years of arts experience with numerous research and education-based qualifications, they enjoy sharing their knowledge and experiences.
---

You can support our work by subscribing to our Patreon
or contributing to our GoFundMe campaign.