REVIEW: Angels In America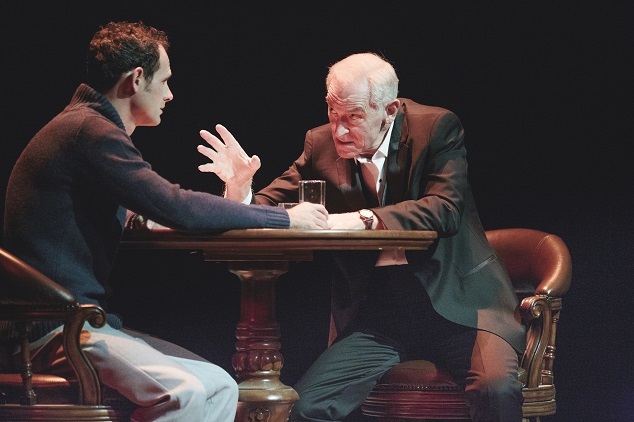 Angels In America | Black Swan State Theatre Company | State Theatre Centre | Until 19th June | ★ ★ ★ ★
Known as one of the most quintessential stories of the AIDS crisis that ravaged the LGBT community in the 1980's, Tony Kushner's 'Angels In America' is an artful summary of the boiling cauldron of politics, sexuality, homophobia, religion and humanity that was set to spill into a crisis that effected the lives of so many. Black Swan State Theatre Company's production is a stark reminder that the themes of this play are still incredibly relevant almost 25 years later.
Following the intertwining stories of two New York couples, Angels delves into the personal and greater social struggles of the times. Louis and Prior have learned one of them has developed AIDS, while closeted Mormon Joe and his mentally ill wife try to salvage a relationship as it crumbles around them. Though at times the piece can feel monologue heavy, each of the ensemble are captivating in their roles. Adam Booth's depiction of a ill man on the brink of death was heartbreaking, while Jo Morris' melodramatic performance as Harper was as humorous as it was touching.
The stage was beautifully lit and simply set with a large impending window above the set, looking like it could fall at any moment. The play is interspersed with moments of magic realism, to highlight the less lucid moments of Harper and Prior. These breaks from the real moments of the play are incredibly well executed – particularly at the climax of the play, when an unexpected moment summoned a gasp from the crowd.
Considering the play's reputation for its ground-breaking representation of the AIDS epidemic, I had expected it to dominate each scene – though the story proved to be more complex, making sure to include the role of Reagan's presidency and lawmakers and their role in the crisis. After watching 'Holding The Man', perhaps I had expected a more harrowing representation of the ravages of illness, but the beauty and sadness of this tale of love and loss provides a fuller understanding of a community under duress rather than one man's experience.
An educational and emotional performance, I would recommend 'Angels In America' to any member of the LGBTIQ+ community or our allies who want to learn more about our shared history. Black Swan's production of this iconic story is outstanding, a touching piece of theatre that is visually impressive and emotionally stirring.
Leigh Hill
Photo:- Daniel James Grant