REVIEW: Arctic Monkeys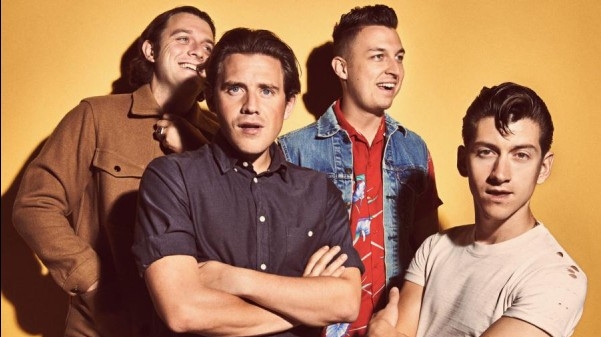 There is something just right about feeling a bass drum reverberate through you. That, paired with the increasingly strong smell of spilt beer convinced me I was in for an amazing night.As a lover of their older music I would have preferred a little more from the album 'Whatever People Say I Am' however the set list was a good mix for both diehard fans and new listeners alike.
Firstly, hats off to Perth arena. The sound was awesome and filled the space with more superiority than other Perth music venues. Secondly, whoever is in charge of their lighting and video needs a medal. The video on the screens slotted in perfectly with Arctic Monkey's image. The shaky black and white video, the close ups, and the varied mix of images brought together the band and the lights making the show look sensational.
Technically Arctic Monkeys are on their game. Their execution is undeniably perfect. The vocals and music where outstanding though unfortunately, Alex Turner was not. What happened to that indie kid who wrote these amazing lyrics and who was in it for the music? Who didn't seem to care about how his hair looked and was sober enough to keep his eyes open?
I think I counted Turner combing his hair five times last night, his jacket looked like it had faux rhinestones on… and the people around me were commenting on how 'wasted' he appeared. His performance was a real shame. Gone are the days where I expect bands to 'keep it real' once fame hits, and the Arctic Monkeys are seemingly a perfect example of this.
The Artic Monkeys' musical talents are undeniable, they played their music seamlessly. In fact, the rest of the band (especially drummer Matt Helders) had their stage presence down pat. The band played for an hour and a half but simply playing their music is not enough for a live show. I want entertainment, I want to be visually and aurally stimulated. The audience needs for a band like Arctic Monkey's to be there, be relaxed and give it everything they have; like they do when they write and produce the music they play at these concerts.
Without a doubt, the Arctic Monkeys write and release amazing songs. In fact, I'm pretty sure they're musical geniuses, but Turner has just lost his charm. He present as being engaged until the end of the last song of the encore where he said "Perth, I don't want this to end. Shall we go again?" and played another chorus of 'R U Mine' and at the end of show… It was too late.
I love them, I really do, but I won't be rushing to see them on a headline tour again.
Set List
Do I Wanna Know?
Snap Out of It
Arabella
Brianstorm
Don't Sit Down 'Cause I've Moved Your Chair
Dancing Shoes
Library Pictures
Crying Lightning
Why'd You Only Call Me When You're High?
Fireside
I Bet You Look Good on the Dancefloor
She's Thunderstorms
No. 1 Party Anthem
Cornerstone
Knee Socks
Fluorescent Adolescent
505
Encore:
One for the Road
I Wanna Be Yours
R U Mine?
Alice Newport
Alice is a frequent contributor at OUTinPerth. Read more of her work here.