Review | Betty Grumble: Sex Clown Saves The World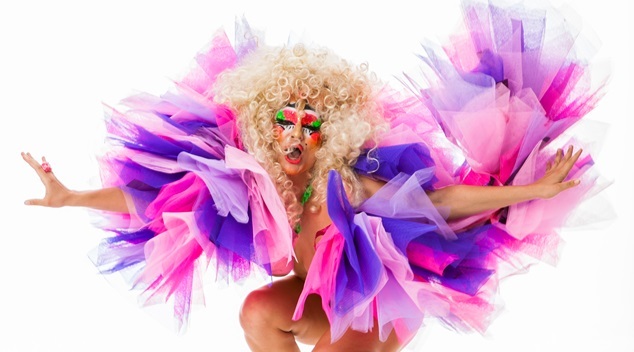 Betty Grumble: Sex Clown Saves The World | Circus Theatre | Until Feb 3 | ★ ★ ★ ★ ½
The indomitable sex clown Betty Grumble has traveled back to Fringe World for a very important cause. She's here to save the world, and she's been gracious enough to invite her audiences to be a part of it.
Sprawled out near-naked in a pile of trash and half encompassed by a garbage can as the audience filed into the room, Grumble's plan for salvation is unclear – but finding out was pure, visceral pleasure.

Grumble introduces herself with a rousing rendition of Patti Smith's Gloria (Yes, Patti Smith – not Van Morrison) replaced with her own name. She also introduces her beloved Gaia, the Earth, a persistent prop throughout the performance -a visual representation of the love she hopes to save.
Shuffling through her trash pile, Grumble initiates a number of costume changes throughout the show – donning incredible outfits made entirely of the discarded. Somewhat contra to the revealing costumes and general buffoonery, Grumble speaks on the environment, feminism, ecosexuality, queerness and love – gleefully punctuating each salient statement with an ironically vapid giggle that plays with horribly persistent expectations of female.
Grumble whirls, bleeds, screams, sings, poops and lip-syncs (oh just WAIT for the lip-sync!) her way through the problems of the world. I watched with glee as some elderly audience members shuffled out of the Circus Theatre as Grumble's message became clear; she doesn't have time for the fucking patriarchy – and neither should you.
Sex Clown Saves The World is hilarious, confronting, incredible and empowering. A show that made me revel in my femininity and my queerness and take a serious look at myself and become aware of some of my own expectations of others. Grumble may admit she has not saved the world at the end of the hour-long show, but she successfully sows seeds among her audience that may just win it in the long game.
Don't miss Betty Grumble: Sex Clown Saves The World in the Circus Theatre until Friday February 3rd. Tickets and more information available from fringeworld.com.au
Leigh Andrew Hill
---

You can support our work by subscribing to our Patreon
or contributing to our GoFundMe campaign.