Review | My Big Gay Italian Wedding will leave you on a high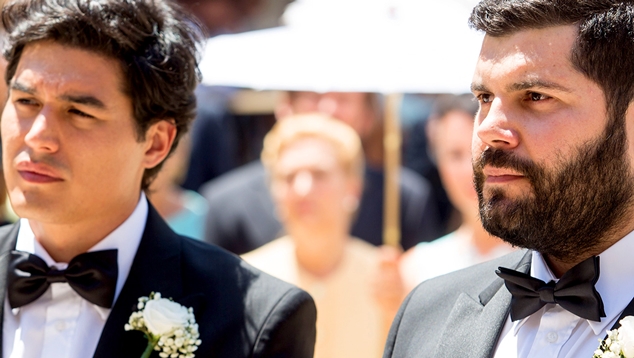 My Big Gay Italian Wedding | Lavazza Italian Film Festival | til Oct 14 | ★ ★ ★ ★ 
Antonio (Cristoano Caccamo) and Paulo (Salvatore Esposito) are living in Berlin when they decide to get married. Antonio takes Paulo to meet his parents and also reveal his sexuality and Paulo takes Antonio to see the mother he hasn't seen in the three years since he came out. Of course their quirky flatmates, singer Benadetta (Diana Del Bufalo) and cross-dressing Donato (Dino Abbrescia), tag along to support them.
The film is not so much about the wedding as the obstacles that need to be overcome on the way to the ceremony. While Antonio's mother is excited to plan the wedding, Antonio's father thinks that gay people only get married in big cities, not in the isolated town of which he is the mayor. Paulo's mother proves even more stubborn and Antonio's mother insists she be present at the wedding.
Based on the hit off-Broadway musical, this Australian premiere is directed by Alessandro Genovesi. Although the issues are quite serious, there are many humorous moments, and this romantic comedy will leave you on a high. Love knows no gender and breaking into song can solve all your problems!
My Big Gay Italian Wedding screens at Cinema Paradiso and Luna on SX in the Italian Film Festival which runs from Thursday 27 September to Wednesday 14 October. Check out italianfilmfestival.com.au for session times and tickets.
Lezly Herbert