Review | Black Swan's 'Water' is filled with outstanding performances
Water | State Theatre Centre | Until 26th May | ★ ★ ★ ½ 
Black Swan State Theatre Company present a brand new work from playwright Jane Bodie and Director Emily McLean. Across three acts Water juxtaposes three different stories touching on joint themes of environmentalism and drought, immigration, politics and race.
In the first half of the play we meet Peter, played by Igor Sas, and his wife Beth, superbly inhabited by Glenda Linscott, who best known for her role as Rita Connors in Prisoner. 

They've left the city for their holiday home which is on a small island community. It's scorchingly hot, and the water in the rain tank is running out. The environment has changed in recent years, the birds have moved away, and the local community has changed too, people no longer leave their doors unlocked, and there's increased security at the ferry crossing.
The family is gathering to celebrate Peter's birthday. The high profile politician has recently announced his retirement. For years he's implemented the government's tough policies on immigration, but now he's stepping down as a new wave of younger talent take over the party.
Tonight the election is being held, but Peter is not needed on the hustings, they don't need him to appear on a TV commentary panel, it's time for him to move on. So tonight is just about family, Glenda has removed the TV and taken the phone of the hook – this is not going to be Don's Party.
The couple's daughter Gemma arrives. She's a lawyer clad in a business suit with perfectly placed hair. She hasn't brought her partner Richard, much to her parent's disappointment. She's concerned about her parent's journey into the next stage of their lives.
Soon younger daughter Joey also turns up, a free spirit who has been travelling overseas on a never ending gap year. Joey has brought a surprise guest. In a Guess Who's Coming to Dinner moment she's brought along Yize, an African immigrant who originally arrived in Australia as a refugee.
The first half of this production is a tense family drama, punctuated by some great comedic moments. The acting is faultless with Amy Mathews taking on the role of Gemma, and Emily Rose Brennan portraying the black sheep of the family – Joey. It's also wonderful to see Richard Maganga make his debut with Black Swan in the role of Yize. Maganga is a familiar face from productions at The Actor's Hub in East Perth.
The first half of this play often felt didactic, the clash of conservative values and youthful optimism plain to see. This family are awkward, distant and each member carries with them burdens and undisclosed information. It created a drawn out narrative, where we suffered through long silences, the moment's of brevity and comic relief were well spaced out.
In the second half the show designer Fiona Bruce's clever set transforms into an entirely new location. Panels flip, props rotate, things are turned upside down and within minutes the stage is the arrivals hall at Ellis Island in 1921.
Here the actors take on a new suite of characters. We meet ageing Australian couple Robert and Elizabeth. They've lost their farm through a drought and have decided to move to America for a fresh start. In side by side scenes Robert answers immigrations questions testing his knowledge of American politics, history and society, while in another room his wife is subjected to a medical check.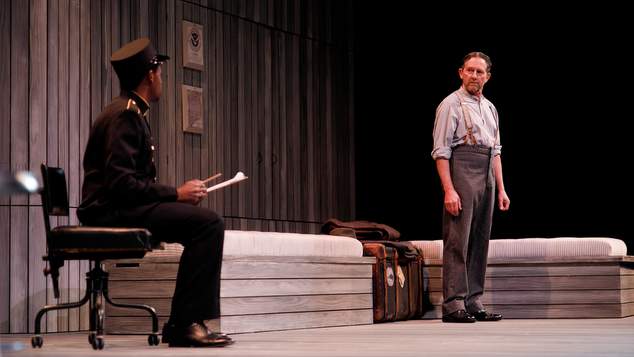 The third story takes us to Queensland in 1905, we see a conversation between the daughter of a sugar cane plantation owner and a man who has worked in the fields. Highlighting Australia's 'blackbirding' slavery trade where young men were recruited from the Solomon Islands, New Caledonia, Vanuatu and Papua New Guinea, this scene shines a light on a part of our history that is often forgotten.
Black Swan have delivered a timely piece of theatre, completely relevant to our current political discourse – it's a stroke of brilliant luck that they've commissioned a new play, and managed to schedule it to fall as our federal election campaign reaches a crescendo.
The first half of Water left me wondering what it would be like to be a fly-on-the-wall in the home of one of the many retiring politicians at this federal election. How do our elected representatives look back on their choices in the years that follow their political careers, will history praise or vindicate them?
I was also reminded of James Graham's play The Vote which played at London's Donmar Warehouse in 2015. Set in a polling station during the last few hours of a general election, a performance was broadcast live on television during the last few hours of the general election.
There is something refreshing about theatre which is created for the moments we live in. Jane Bodie's work has an element of being for 'right now' and balancing that against a more historical and wide-angle look at the issues.
What a thrill it will be for people in the audience next Saturday night, who will have to wait until the interval, or possible the final curtain to get an update of our own election outcomes.
While the pacing of the first half of this work is challenging, and its themes are worn on its sleeve, the second half moves along at a great pace, and the acting from all of the cast is wonderful throughout.
Water presents four stories of people travelling over the water leaving one life and start afresh, from a slave being returned to his homeland, a couple moving to American for a new start, a refugee family seeking a new life, and a politician finding solace and seclusion on a small island.
Graeme Watson, images: Daniel J Grant 
Earlier in this season Graeme performed the role of Editor Webb as a member of the community cast of Black Swan's production of Thornton Wilder's 'Our Town'.  
---