Review | 'Carmen & Lola' brings lesbian romance to the Spanish Film Festival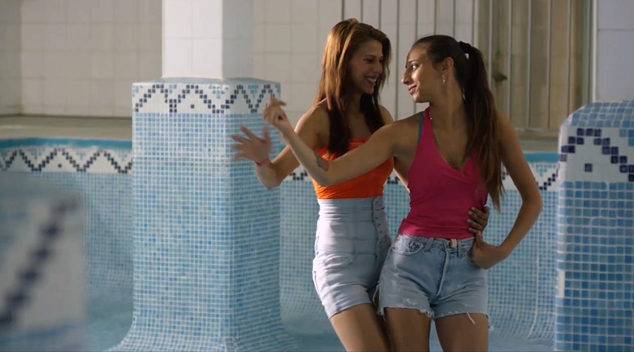 Carmen & Lola | Cinema Paradiso | May 6 & 11 | ★ ★ ★ ★  
Carmen & Lola, the first feature film from Arantxa Echevarria, takes the audience into a deeply Catholic gypsy community in the bustling Spanish city of Madrid. There's colour, dancing and the sense of a close-knit community where Carmen (Rosy Rodriguez) and Lola (Zaira Morales) work on family stalls at the markets.
The director has used non-actors and there is a raw energy between the two young women as they sneak off to smoke a cigarette. Seventeen year-old Carmen is preparing for her elaborate engagement party and sixteen year-old Lola is fighting with her father who thinks she is more interested in education than finding a husband.
Labelled 'weird' by her family, Lola has discovered a lesbian chat site and is planning an escape from her suffocatingly homophobic community. She is also smitten by Carmen who, at first, responds in a less than favourable way. Lola paints graffiti art and uses it to declare her love for Carmen, along with the heavy-handed symbolism of birds taking flight.
Strangled by a community held together by rigid patriarchal beliefs, Carmen and Lola are faced with losing everything they know for lives of uncertainty with each other. An engaging documentary-style romance that takes the audience into a vibrant community that is stuck in the dark ages.
Carmen & Lola screens at The Spanish Film Festival at Cinema Paradiso from Wednesday 24 April to Wednesday 15 May.
The Opening Night Fiesta on 24 April includes Sangria on arrival and the premiere screening of Champions, the Best Film winner at the Goya Awards (Spanish Oscars), followed by an after party at Connections Nightclub.
Champions, by Javier Fesser stars Javier Gutiérrez as Marco, an ambitious and arrogant basketball coach forced to train a team of people with disabilities. Touted as a "comedic slam dunk" by The Hollywood Reporter, Spain's exuberant 2019 foreign language Oscar's entry is the ultimate feel-good film that will leave audiences grinning from ear to ear.
Lezly Herbert