Review: Revisit Hillary's first presidency with Clinton: The Musical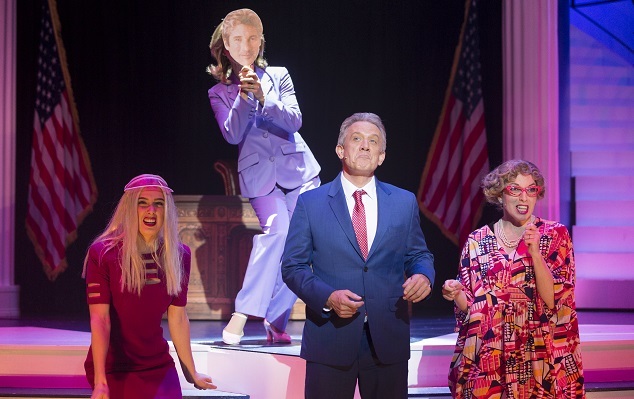 Clinton: The Musical | Black Swan State Theatre Company | Heath Ledger Theatre | Until Sept 11 | ★ ★ ★ ★ 1/2
As the USA continues down the long road to the 2016 Presidential Election, Black Swan State Theatre Company are telling the story of the first Clinton Presidency. 'Clinton: The Musical' takes audiences back to Hillary's introduction to the White House at the side of her husband, President Bill Clinton.
Embattled with media scandals throughout his political career, Bill Clinton is remembered as a divisive and duplicitous man. 'Clinton: The Musical' explores both sides of the sax-playing President with two actors, Simon Burke AO as "WJ" the professional politician and Matt Dykytnski as "Billy", the one who infamously "did not have sexual relations with that woman" – Monica Lewinsky (Megan Kozak).

Though Bill's presidency is the through-line for the tale, the ensemble of characters all shine individually as gross exaggerations of their actual selves. Lisa Adam plays the great woman behind the great man as a somewhat manic, hyper-motivated Leslie Knope type living by the word of the demented ghost of Eleanor Roosevelt – who appears throughout to offer sagacious advice. The Clinton's rivals are a bumbling Newt Gingrich (who doesn't appear on stage without a snack) and the lawyer who was responsible for Bill's impeachment, the almost aggressively camp Kenneth Starr.
The show is packed with earwormy songs that will stay in your head for days, though you may want to hold back on singing Monica Lewinksi's 'I'm Fucking The Fucking President' in public. Packed with laughs from start to finish, the performance is peppered with references to the current race between Clinton and Trump which at times I wasn't certain if they weren't written in the original text.
'Clinton: The Musical' is a hilarious history lesson that explores to rise of Hillary Clinton and her supporting players. A strong ensemble of characters, wall-to-wall jokes and songs so catchy you'll be looking for the soundtrack make this a must-see show.
'Clinton: The Musical' is at the Heath Ledger Theatre until Sunday 11 September. Tickets available online at BSSTC.com.au.
Leigh Hill
Image:- Daniel James Grant