Review | 'Club d'Amour' is a sizzling, scintillating sensation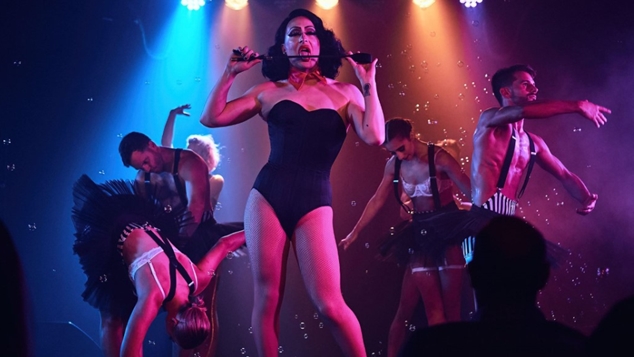 Club d'Amour | De Parel | til Feb 2 | ★ ★ ★ ★ ½ 
When a Fringe show offers a mash-up of 50 Shades of Grey, Moulin Rouge, and Rocky Horror, there's always going to be high expectations, and a bit of apprehension, from new audience members. Tone & Cheek promised that and more with their second instalment of Club D'amour, a 'back alley French brothel set deep in the red-light district of Paris'. In the stunning De Parel Spiegeltent, a perfect setting for the immersive and interactive show, there was not a dry seat in the house as this super talented cast took us on a journey through taboo, unrequited love, and hilarious asides from host Fay Rocious.
If there was ever any doubt at Fay's hosting skills, this Madame of the Night smashed them all within minutes. Stepping out in a molded, made-for-her corseted bodysuit, she was energetic, in control, and had the audience eating out of her hand with a few quick words and sly smiles. Throughout the whole night, Fay weaved the tale of the French brothel we'd all chosen to visit, sharing her two simple rules with us and building the excitement for the show to come. Her fashions were on point – Fay's costumier needs a huge mention here, especially for those pants (you'll have to see the show to know the reference!).
With vocals that sizzled the whole night through and displayed her amazing talent, Amber was captivating in the opening number of "Big Spender", supported by the cast as they introduced themselves and their talents to the stage. The inclusion of live vocals at several points throughout the show, most notably a rousing rendition of Crazy In Love, added variety to the electrifying soundtrack of the night, and were delivered to perfection with Amber's strong, sexy tone resonating beautifully in the Spiegeltent setting.
With Fay expertly leading the way, each cast member had their time to shine their brilliance. There wasn't a single person that could tear their eyes off Natalie and Melina during their duo hoop routine, which was both sensual and erotic in one of the sexiest aerial routines I've ever seen. The chemistry between these talented performers permeated the air as they connected, performed as a single entity, and left us gasping more than once – and left us wanting more!
However, this show isn't just about the ladies. Hayden, Linton and Anthony gave the audience energy, filthy innuendo, and comical allusions throughout the night, combining their acrobatic talents with the night's soundtrack. Hayden's introduction to the crowd was memorable, in a debaucherous introduction that made some of the more straight-laced audience members blush, while the rest of us nearly lost our voices from whooping and screaming our praise.
An honourable mention needs to go to Linton, who gave a fabulous energy and charisma through the whole show. He bounded endlessly around the Spiegeltent as if he was as light as a feather, with a playful charisma that made him instantly likeable and a crowd favourite. At one point he produced a red scarf from the rear of his skimpy pants, handed it to an audience member, and told her firmly "don't let go!". He then skittered away back to the stage – the red scarf turning into a trail of rainbow clown-esque perfection that even Fay appeared perplexed by when she collected it! After a quick sniff, Fay came to her own conclusions about where he'd been hiding that all along, and the audience erupted in boisterous laughter at the sheer filth of it all.
Finally, a commendation to Anthony, who gave sizzling chemistry with not only the ladies onstage, but the men as well. As the 'courtesan' of Club d'Amour, the connection he had with each of his dance partners, regardless of gender, was a sight to behold. When an audience is collectively holding their breath at the possibility of a touch, a moment, even a kiss between the onstage performers, you know that they're giving us exactly the decadence and forbidden lust that Club d'Amour is known for.
It's not hard to see why this show won a Weekly Fringe World Award last year, and is likely to continue their run of sell-out shows this Fringe. The whole cast scintillates with a multitude of talents, and the chemistry they present is undeniable. Get tickets while you can, because there's absolutely no doubt that they won't be available for long. This show has made it to the "must see" list at Fringe, and I can't wait to see what Tone & Cheek bring next year at Club d'Amour.
Club d'Amour is playing at the De Parel Speigeltent until February 2. For tickets, head to fringeworld.com.au
Kiera (they/them) is a passionate arts creator and consumer, especially in the fields of cabaret and burlesque. Combining 20+ years of arts experience with numerous research and education-based qualifications, they enjoy sharing their knowledge and experiences.
---

You can support our work by subscribing to our Patreon
or contributing to our GoFundMe campaign.