Review | Co3's 'THE LINE' is anything but linear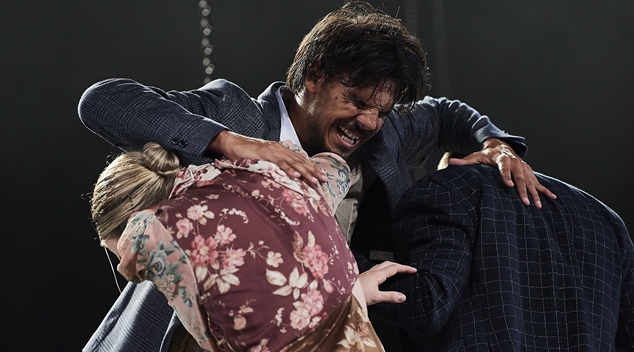 THE LINE | State Theatre Centre | til May 19 | ★ ★ ★ ★ 
I wasn't entirely sure what to expect of THE LINE, which has been described as a contemporary dance slash theatre performance. I was familiar with Co3 through their immensely popular work Frank Enstein, and found that work to be a comforting introduction to the world of contemporary dance with its linear style of storytelling.
THE LINE is anything but linear.
This work, created by Artistic Director Raewyn Hill in collaboration with Mark Howett, is inspired by legislation which existed in Perth in the 1930's which prohibited indigenous Australians from entering the city after 6pm if they were not in employment. The resulting work explores ideas of boundaries, prejudice, connection to land and cultural stereotypes through movement.
Ian Wilkes is a ridiculously charismatic performer. He owned the stage, embodying several characters during the performance through the most subtle shifts in his posture. The scene in which he and Katherine Gurr dance their first pas de deux was a beautiful example of the intricate changes in personality and power which can be conveyed through the smallest of movements.Andrew Searle was slightly more restrained in a role that at times seemed limited to that of the villain.
The score is composed and performed by the legendary Eden Mulholland and performed in collaboration with classical accordionist James Crabb. The interplay between musicians and the action on stage as they move back and forth, crossing boundaries we as an audience draw for them is one of the highlights of THE LINE.
In the comprehensive booklet that accompanies the performance, the Co3 team reassures us that meaning is made through viewing – (When you) bring your own personal histories and ideas to what you're seeing. There's no right or wrong, it's just what you interpret from what you're experiencing." My own perspective brought me to an understanding of the work that was about repetition of history, and reflected current conversations occurring in homelessness circles regarding people experiencing homelessness occupying public space during the night.
THE LINE is by turns comic and angry, violent and gentle – but most of all highly engaging throughout the entirety of the 50 minutes performance time.
Tickets are still available for performances this weekend at co3.org.au  
Rebecca Bowman
Image:- Daniel Carson
---