Review | Come and come again at Little Death Lates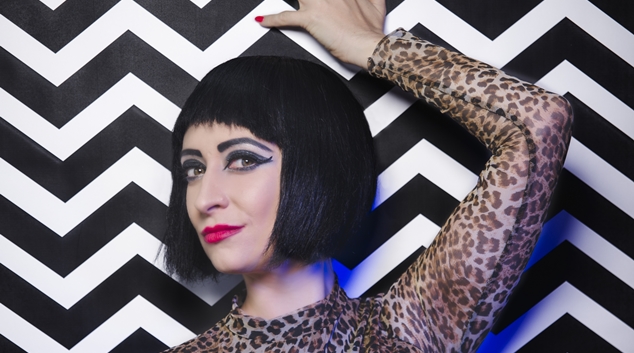 Little Death Lates | The Edith / De Parel | til 9th Feb | ★ ★ ★ ★ ★ 
Kapow! This is a Kabarett that'll assault your senses while caressing you in a velvet glove of love.
Naming a show after a French metaphor for the sexual orgasm more or less sets up climatic expectations, but don't worry, you won't be left hanging. Foreplay starts as soon as you step into the air-conditioning of the Spiegeltent, which is cold enough to call anyone's nipples to attention.

If you're used to safe sex, Little Death Lates is going to introduce you to a whole new level of intercourse, and it's all in your face. Audience interaction gets intimate real quick with an indulged facial hair fetish, a few well-placed hands and some potential motor-boating moments. But when you've only got one hour to spend the night together, it's best not to pussy-foot around.
Bernie Dieter is a magnetic Weimar-Punk Kabarett Queen whose spectacles are consistent smash hit sell-outs and international festival and fringe favourites. Her multi-award winning shows, including Little Death Club and East End Cabaret, are decadently risqué and deliciously debauched. Bernie is, without a doubt, the Kabarett Ringmaster in this phenomenal showcase of fabulous eccentrics getting down and dirty on a stage that looks more like a fashion runway.
What happens in the Spiegeltent stays in the Spiegeltent!
Although, I can reveal there was some serious power tool torture by Neo Burlesque superstar Lolo Brow and corsets I didn't think could get any tighter; Boylesque King Karl Kayoss will never let me see milk the same way again; Jacqueline Furey shows how naughty pussycats wield a whip.
We were attacked by the 7ft glamonster Gingzilla, who is hands-down one of the best drag queens I've ever seen, redefining gender and sexuality in a completely unique and utterly charming stampede of pure and divine awesome. Hair envy is a real thing, and seeing luscious locks flying brought it on fast! Gingzilla has a transformative voice that demanded respect in a beautiful rendition of "I Can't Make You Love Me" one minute then had you grinding in your seats to No Diggity next minute.
There's humping and jumping and the laughs come hard and fast in Little Death Lates. You'll definitely be getting bang for your buck so spread… the word, and let brazen Bernie tell you the story of how she came to know what the acronym WAP stands for. You'll never be the same again!
Little Death Lates is on Friday and Saturday nights during Fringe World. Head to fringeworld.com.au for more info.
Evie Tymms