Review | Craig Hill: Someone's Gonna Get Kilt!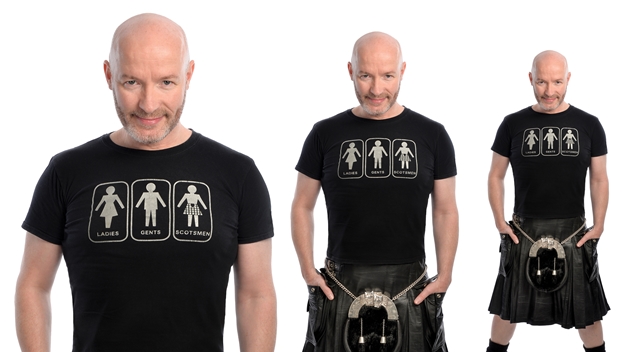 Craig Hill | Hellenic Club of WA | til May 5th | ★ ★ ★  ½ 
The front row is notoriously dangerous terrain at any stand-up gig; at a Craig Hill show you are throwing the chance of a dignified evening to the wind, as chair by chair he manages to eviscerate those foolish enough to think they'd scored premium seating.
Beginning with some high energy disco kilt work Hill acts as though he's the ring master at a comedy orgy; the sexual innuendo flies thicker and faster than the jizz on a porn set. He doesn't let up until he's fully satisfied his audience and delivered a happy ending for all.
For those who don't know Craig Hill, he is a sassy bitch from Scotland who invites you to come again for one night only to Someone's Gonna Get Kilt. That someone is usually the most uncomfortable straight guy in the audience who becomes the unwitting support act and butt of most of the butt jokes.
Hill likes to survey the demographics of his audience for more interactive material and no suburb, nationality or even hair colour (ginger's beware) is safe from his rapier like wit. When he floated the question "are there any gays in tonight?" I made the tragic blunder of letting out a modest gay woo! to signal my presence, then sat on the receiving end of a series of jokes about it being the saddest thing he'd ever heard. I've never enjoyed being made fun of more.
Hill also enjoys a bit of a sing song and has a knack for turning classic pop songs into pure filth. Sheena Easton's Morning Train will never be the same again. Returning his laser like focus to the Scottish straight boy for the finale, the unsuspecting young man was dragged on stage, much to the delight of his parents, strapped into a red PVC kilt and coaxed into what can only be described as a big Scottish gay dance off.
Craig Hill is unflinchingly filthy and makes no apologies for it, anyone who buys a ticket to Someone's Gonna Get Kilt may wind up a part of the act but that's the whole point of the show. It runs for one more ruinous night at the Hellenic Club.
Tickets and more information available from perthcomedyfestival.com
Clinton Little