Review | 'Drag Diva Spectacular: Nostalgia' is simply the best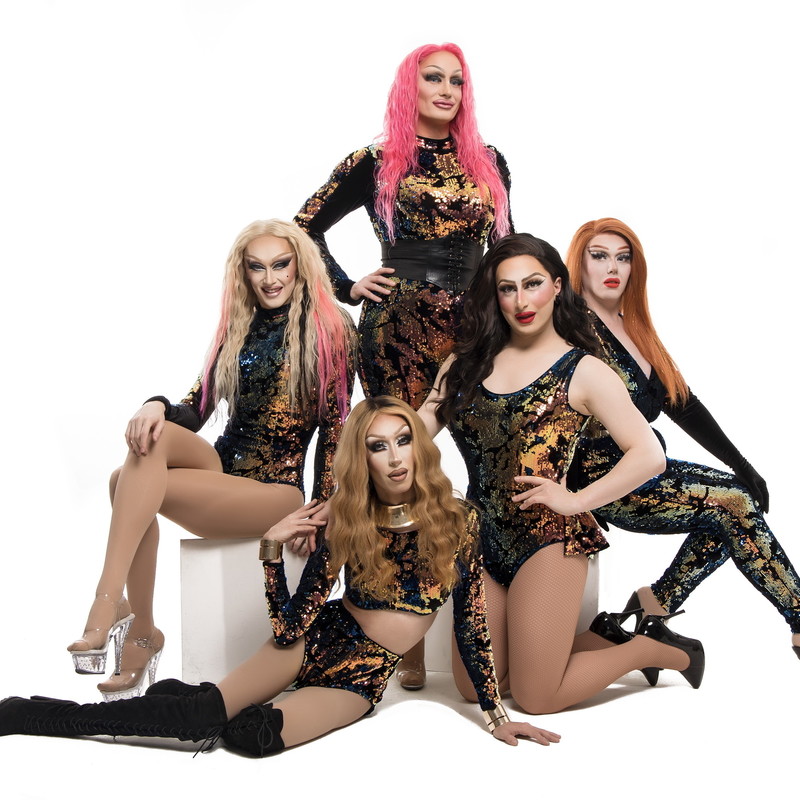 Drag Diva Spectacular: Nostaglia | Connections | til Feb 4 | ★ ★ ★ ★ ★ 
Year after year at Fringe there's shows that you know won't disappoint you – you know that the production will be well written and rehearsed, full of talent, and worth the ticket price. Barbie Q's Drag Diva Spectacular is on that very short list of shows, and Nostalgia lived up to every expectation that they've built up over the years. A family friendly show, the audience was packed with people of all ages – and a huge number of friends and family. This speaks highly of the calibre of the show; when family are still attending shows years into a production, you know you're doing something right.
Opening the show, Barbie Q presented a mash-up of songs that set the tone for the night, tearing up the stage with her performance including the whole cast of Divas as well as dancer Hayden. A night of Nostalgia was promised resulting an outrageously entertaining night of drag performances by some of the best queens in Perth. Of particular interest was the lack of an MC/host between every routine; with only two or three pointed and effective interludes from Barbie Q and Alexas Armstrong, the Divas delivered a mind-blowing 18 songs over the one-hour show, maintaining the energy and flow of the show. Despite the powerful and upbeat start, a full spectrum of nostalgic hits was delivered, including slow jams, pop ballads and more.
Solo performances by each queen were scattered between group performances, showcasing each Diva's talents. We were treated to a performance from Alexas Armstrong that was nothing short of outstanding, in her signature Britney style. With mind blowing dance moves, amazing expression and great use of backup dancers, this was one of the highlights of the night. Ruby Jewels gave us the slutty (in a good way), expressive Mariah that we've all dreamed off, her energy and presentation proving that despite her petite stature she's a giant talent and fierce Diva. Fay Rocious, with a touching dedication to her mother, bought out the Disney nerd in us all, slowing the pace but keeping the energy high. Presenting a campy prehistoric number, Veronica Jean Jones performed a sexy Kylie Minogue routine as our favourite Flintstone, with the backup support of the talented Hayden.
Barbie Q, celebrating 25 years of drag this year, told us at the start of the night that they'd lost a dancer late afternoon and apologised for any mistakes. Apparently the performers were discussing backstage about how to manage adaptations, spacing and choreography changes as they performed! The more eagle eyed among us were looking for it, any indication of imperfection; however, apart from singular costume mishap (which was hilariously and flawlessly dealt with by VJJ, so much so that we forgot that it was a mishap!) no indication of this was evident. Barbie exemplified a professional performer, while still living in the moment and being highly personable performer and host.
There aren't many drag shows that are suitable for children, and with a G rating the youngsters were welcomed and embraced in the audience. This doesn't mean there isn't the occasional curse word, adult reference, or lewd comment – but this is Drag, after all! An art form with a unique presentation style, it's unrealistic to expect that there won't be some adult references in a drag show. The joy of Drag Diva Spectacular: Nostalgia was that Barbie acknowledged the children and families in attendance, setting them up for a fantastic experience. Despite those references and jokes, the audience laughed while the children glanced curiously (or shocked) at their parents, who either paled nervously or laughed them off; however, nothing detracted from the incredible performances of the night, with any grudges evaporating quickly. No one was excluded from enjoying the show based on their age, and the flawless way everyone was catered for is a testament to the years of experience and learning that makes Barbie Q the performance and production Queen she is (but I won't call her an icon!).
Drag Diva Spectacular: Nostalgia bought back fond memories of Blue Light Discos from years gone by, including a fabulous mix of music from the top of the Aria charts to the Top of the Pops. Drag Diva Spectacular: Nostalgia exemplifies the outstanding work from Barbie, Alexas and the Divas as a must-see show every Fringe, and will inspire you to look up their shows between Fringes to support these entertainers. Drag Diva Spectacular: Nostalgia is the best show I've seen at Fringe this year, and I'm already making plans to go again before they close.
Drag Diva Spectacular is running until Saturday 4 November. For tickets, head to fringeworld.com.au
Kiera (they/them) is a passionate arts creator and consumer, especially in the fields of cabaret and burlesque. Combining 20+ years of arts experience with numerous research and education-based qualifications, they enjoy sharing their knowledge and experiences.
---

You can support our work by subscribing to our Patreon
or contributing to our GoFundMe campaign.