Review: Em Rusciano – Bossy, Bawdy and Brilliant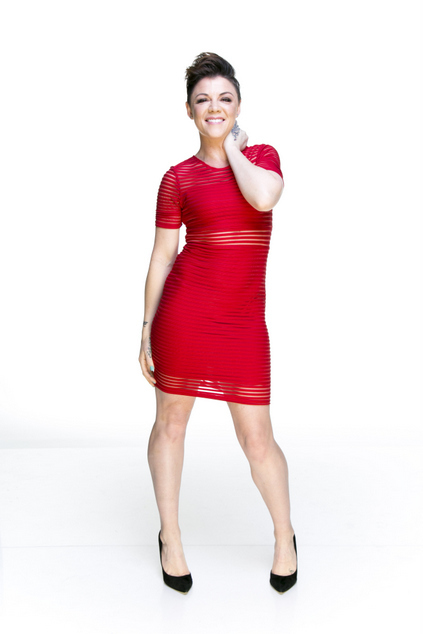 Review | Em Rusciano is not a Diva | Astor Theatre | Last show tonight Feb 14 | ★ ★ ★ ★
A giant letter E stands tall in the centre of the Astor Theatre's stage. I just can't help thinking of a Sesame Street reference, "today's show was brought to you by the letter…"
A four piece band takes to the stage and begins playing The Weather Girls tune 'Its Raining Men'.
The house is packed and it's clearly that Rusciano's fan base is largely women. Later in the show the comedian will ask all the men in the audience to stand up, revealing a specific percentage, there were only around 9 guys in the room.

Rusciano appears 16 minutes later than the show's advertised starting time. Normally a forgivable offence, but this is Fringe, and there are other shows to been seen later in the night.
The late entrance for a moment suggests that the title of the show might not be true. The prolonged wait in the theatre has given us so much time to ponder the giant E, and wonder where one goes to get a giant letter made.
But to the sound of a disco classic, Rusciano appears in an outrageous showgirl costume complete with an over the top headdress that looks like it's been stolen from 'The Adventures of Priscilla, Queen of the Desert'.
At the beginning of the show I have mixed feelings about Rusciano, I've been enjoying her recent podcast series but also remember her time on Perth Breakfast radio a few years ago, I used to turn to another station quite a lot. Turns out Rusciano doesn't have fond memories of that time either, later in the show she said she gets a "twitch in her eye" every time the station's name is mentioned.
The comedian launches into her banter, delivering an outrageous hilarious commentary on recent news and current pop culture, the love affair between Mariah Carey and James Packer is dissected, the history of Whitney Houston and Bobby Brown's relationship, and the challenge of accepting rapidly approaching 40th birthdays.
Rusciano drops some salacious details about two of the b-grade celebrities currently in South African jungle (you had to be there) and heads completely off script when she begins to tell the audience that her "atomic period" has come a week earlier.
In a 'there are clearly no boundaries' moment Rusciano delves into great detail about the challenges of unexpected menstrual flow and it's laugh out loud funny. Incredibly honest, and sets the stage for a show where anything goes.
Rusciano confessed the shows had taken a turn away from what was planned. She said she hoped no reviewers were in the house (soz, in the back row). Yet this is exactly what makes Rusciano appealing as a performer, she's a natural, the parts of the show which were off the cuff, were just as entertaining as the prepared sections.
Her interactions with audience members, were fantastic. Noting that he band had spotted a very attractive woman as the audience filled into the theatre, Rusciano demanded all women in blue dresses stood up so she could check out the beauty who had captured the band's attention.
Later she demanded all men to stand, and then broke us down into subcategories of 'dragged by partner', 'gay' or 'here of own accord'. There's no arguing with Rusciano, and it's an essential part of her charm.
Rusciano shared her childhood of dream of becoming the first person to win an Oscar, a Grammy, a Logie, an Olympic medal, an Emmy and a Tony award. As she's gotten older she's realised that she's not going to become the next Madonna and she can't even get an invite to the Logies.
This starting point kicks off a show that touches on revisit's teenage years in the '90s, a never-ending fascination with Madonna, gay boyfriends, and what its really like to be a contestant on 'Australian Idol'. All so very funny.
The comedic conversation is interspersed with songs that help move the stories along and allowed Rusciano to showcase her great singing ability too.
Em Rusciano, you won me over, count me in as a fan.
Graeme Watson