Review | 'Ginava's Messy Friends' have one hell of a show for you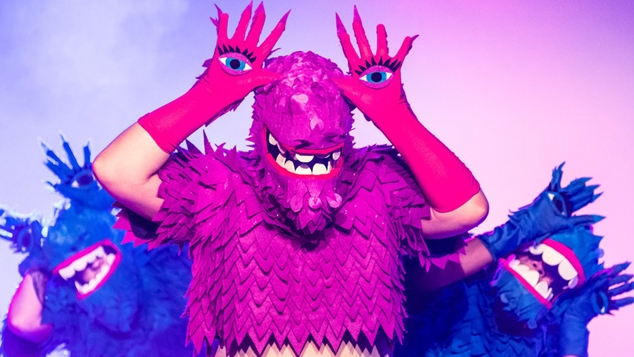 Ginava's Messy Friends | De Parel | til Feb 2 | ★ ★ ★ ★ ★ 
Gendermess Productions have become a prolific and much-celebrated force among the local arts scene under the leadership of founder, director and artist Ginava.
Ginava's unique and spectacular vision of drag and intersectional artistry has seen her plucked from the queer clubs of Perth and lauded on the international stage. Whether it's alongside iconic queer club kid James St James on Transformations, having her costume creations commissioned by Irish pop sensation Roisin Murphy or touring the country with her original award-winning work Split Lip – Ginava is doing it her own way, and she's doing it very, very well.
Like much of the fare in the jam-packed Fringe World line-up, Ginava's Messy Friends offers a showcase of local queer talent. In this case, drag performers are at the heart of the roster.
The titular messy friends are queer rising stars and Fringe fixtures: Bobby Knox, Danisa Snake, Skye Scraper, Liberty Genre, Mary Lamb O God, Flynn V and Matthew Pope.
Ginava and the collaborating artists have taken the time to consider how they can stand out from the clamouring crowd of artists vying for eyeballs over the next few weeks. As a producer, Ginava has always had a knack for curating the most interesting local artists and extracting what makes them unique, challenging them to step outside of the box. That is not to give Ginava credit for the others' hard work or talent, mind you, as each of the cast brought the best of themselves to the De Parel stage.
Each performer served a fusion of drag and other artistry, extending beyond the reach of what's expected from a standard Fringe showcase. Bobby Knox displayed their jaw-dropping movement and dance skills in an astonishing dance number, Danisa Snake pays homage to her serpentine namesake with a striking burlesque spot, and Liberty Genre elicited gasps with her gorgeous costume and surprising striptease.
Comedy and glamour collide exquisitely in Mary Lamb O God's skewering of pageantry, while Flynn V toys with the masculine and feminine in his burlesque feast, and Skye offers a gorgeous old-school musical theatre moment that smothered classic elegance with her emerging brand of Skye-high camp.
The audience were treated to unique insight into these creators as well, with the production employing pre-recorded interviews with the team out of drag as transitional moments between numbers. Here, each performer had the opportunity to sit down with Ginava and talk about their creative output and expression.
For example, Danisa outlines her desire to use drag as a conduit for her other skills and not be contained in a 'drag' box, while Skye speaks on her ambition to branch out from performance and into production and peripheral aspects of theatre. These clips offered a surprising depth of insight into these artist's lives. The conversations also serve as a reminder of the humanity under the makeup, a factor often forgotten in the whirlwind of discourse surrounding a certain drag reality competition.
This show also reminds us that drag is not monolithic. Drag performers are multi-faceted artists, that often have to go above and beyond the realms of a conventional performer. Ginava's Messy Friends offers a spectacular showcase of exceptional and unconventional talent, loaded with laughs, gasps and a surprising amount of heart.
Catch Ginava's Messy Friends at the De Parel Spiegeltent until Thursday February 2. For tickets and more info, head to fringeworld.com.au
Leigh Andrew Hill is an editor at OUTinPerth, with a BA from the University of Western Australia in Media Studies & Art History. Since 2005, Leigh has studied and practiced journalism, film-making, script-writing, language, contemporary performance and visual arts. Leigh is also a freelancer writer, and producer and presenter on RTRFM 92.1.
---

You can support our work by subscribing to our Patreon
or contributing to our GoFundMe campaign.