REVIEW: Jasper Jones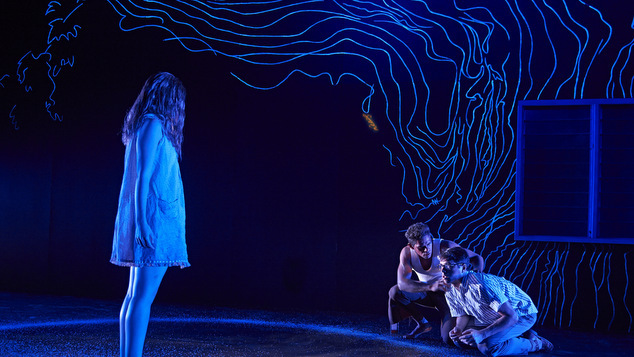 'Jasper Jones' is Barking Gecko's latest offering that's currently downstairs at the State Theatre Centre of W.A. It's based on local author Craig Silvey's 2009 novel of the same name, and was adapted by Geraldton-born playwright Kate Mulvany. The story is set in the regional mining town of Corrigan and is told by Charlie Bucktin, an awkward, bookish fifteen year old determined to one day write the great Australian novel. In the middle of the night, Charlie is visited by Jasper Jones, a half-Aboriginal teenager largely ostracized by the town, who tend to use him as a scapegoat for any sort of mischief. Jasper needs Charlie's help with a task that will change the way he sees his town and force him to grow up very quickly.
In the interest of full disclosure and journalistic integrity I feel it's necessary to mention that one of my favourite novels of all time is Craig Silvey's first book, 'Rhubarb', and I'm a long time fan of Kate Mulvany's plays. How I felt when I found out about this collaboration is probably the same way some people felt about Matt Smith and David Tennant appearing together in the 50th anniversary episode of Doctor Who. So perhaps take my comments with a pinch of salt because as much as I do my best to be objective, it's worth bearing in mind that this review is written from the perspective of a slobbering fan girl.
On to the review. 'Jasper Jones' is an equal turns funny and dark coming out story set against the backdrop of 1960s racism, small town paranoia and the Vietnam War. Mulvany has stayed faithful to the novel in her adaptation, and the humorous dialogue that made the novel so engaging has remained, and is thoroughly enjoyable with the benefit of a live audience.
Designer Michael Scott-Mitchell has made a beautiful set which is in a delightful state of symbiosis with Trent Suidgeest's lighting design. The set has an attractive simplicity, cleverly using iridescent light to quickly transform from one setting to the next, giving the audience and understanding of every location and still giving space for imagination. There's also some clever usage of blue sand, which helps portray everything from a river in the middle of the bush to a cricket pitch.
James Beck as Charlie gamely took on a hefty load of narration, and Shaka Cook had the appropriate combination of hope and cynicism for the eponymous Jasper Jones. It's heartbreaking to see how matter of fact Jasper is as he introduces Charlie to the prejudice and injustice that surrounds them, accustomed to them as he is having been on the receiving end the whole of his young life.
One of the strengths of the show is the dialogue between Charlie and his best friend Jeffrey Lu, who are in constant debate over the merits of Superman versus Batman, and hypothetical scenarios bizarre and entertaining enough to pass the time in the dreary heat of small town summer. Jeffrey's relentless optimism is brought to life by Hoa Xunde. One of the most endearing characters of the play, Jeffrey faces blatant racism and deliberate humiliation with an unwavering smile persistent enough to exasperate any tormentor.
'Jasper Jones' is just as tragic as it is funny. There's a great deal of darkness underneath the witty dialogue as the young characters come to the realization that authority does not necessarily equal trustworthiness, accelerated by incidents of violence. Barking Gecko have produced a show which will be very relatable for young audiences, and at the same time provides a platform for discussion on issues including violence, prejudice and Australia's dark history when it comes to racism.
The show progressed at a steady pace, and didn't seem to have quite the same sense of urgency as the novel did as Charlie and Jasper struggle to solve the mystery at the heart of the play. Although perhaps its easier to get hooked by the story if you don't already know how it ends.
'Jasper Jones' is an engaging coming of age story presented by a skilled cast of actors. It's heartening to see entertaining work with a historical, cultural relevance coming out of Western Australia. Equally so to see it performing to full houses at the State Theatre Centre. Barking Gecko have succeeded in producing an example of quality storytelling that is sure to engage and inspire young audience members.
Sophie Joske