Review | John Robertson's Looking Sharp is a rambunctious thrill ride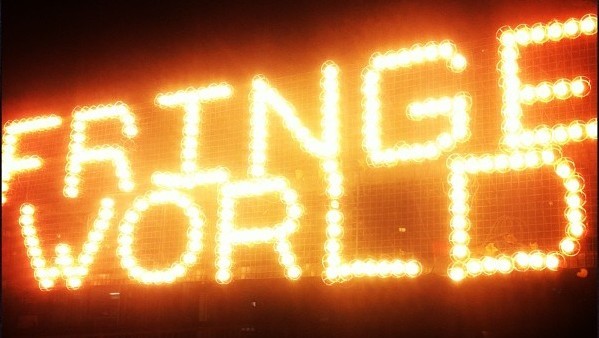 John Robertson: Looking Sharp | Four5Nine | til Feb 11th | ★ ★ ★ ★ ★ 
Arriving at Bar Four5Nine, the space has been turned into a kind of house of horrors. You half expect a dollar store Leatherface to come stumbling through with a chainsaw.
I also have missed the memo about wearing all black, and worry I am conspicuously overdressed next to the rest of John Robertson's home crowd.
Going into the gig I didn't know what to expect, other than what I'd read in the blurb. Not having seen him before, it was difficult to imagine what John would be like. And what John is like is unlike anyone else. Make no mistake, John Robertson is not like most comedians you will see. Or meet. Or possibly ever hear of. But this is a good thing.
From the start, John jokes about being friends with half the audience, picks out members of the media he knows, and tries to identify "industry" people — probably the ones who didn't dress in black. In what seems like his trademark style, John teases audience members, and yet without obviously pulling his punches always seems to keep things the right side of fun.
From start to finish, Looking Sharp is a rambling, rambunctious, improvised, ADHD thrill ride of a show. John jumps from a joke, to a story, to engaging with a heckler, heads briefly back to a story, then veers wildly off down a side track: but you are laughing the whole way. At times, John forgets why he is on the tangent he is on, what was he saying before, and the audience seems to pause for a moment to mentally rewind.
I hate to use the word meta, but that's the only word that fits parts of the show. John banters with a journalist about how they are rating the show so far, what do they want to see from it, do they need more pathos? With John, you have no idea what is scripted, what is planned, what is spontaneous improv, and what is a sudden train of thought not even he expected.
Sometimes he seems to take a moment to remind himself to talk less, smile more.
A friend of John's heckles him at one point — or possibly repeatedly — about not being able to finish a story, and John seems to both revel in it and joyfully resent it, yet he can't help but prove his friend right.
Despite looking like Draco Malfoy's hot Dad (a disturbing train of thought you'd do well not to think about, especially considering John's love of bondage and S&M) he is the very opposite of that man. He has surprising layers and vulnerability. And if he invites you to volunteer for the Sinatra finale, accept like I did. What's the worst that could happen at a show like this?
John Robertson clearly loves what he does. He loves performing, he loves interacting with a crowd, and in case it needs to be said: John is very very funny.
John Robertson is Looking Sharp until Sunday February 11th. Tickets and more info available from fringeworld.com.au
James Chesters
---
Support OUTinPerth
Thanks for reading OUTinPerth. We can only create LGBTIQA+ focused media with your help.
If you can help support our work, please consider assisting us through a one-off contribution to our GoFundMe campaign, or a regular contribution through our Patreon appeal.