Review | Late Night Power Point Comedy Showcase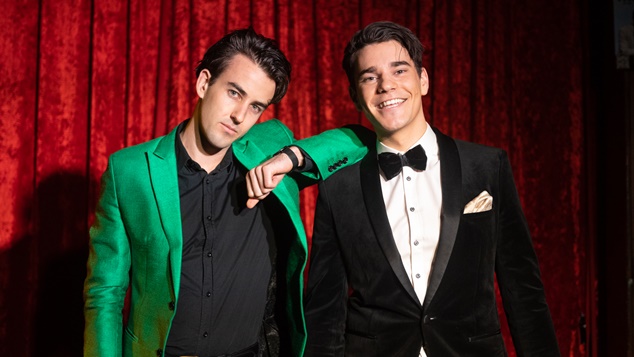 Late Night PowerPoint Comedy Showcase | 459 Bar | Until 2nd Feb | ★ ★ ★ 
Melbourne based comedians Sweeney Preston and Ethan Cavanagh have had sold out seasons of their comedy showcase at the Melbourne International Comedy Festival and Sydney Fringe. Now they bring their show to Perth for Fringe World 2023.
The premises is simple, comedians are invited to do a short set, but they have the added element of delivering their jokes alongside a PowerPoint presentation that they have created to enhance their delivery. It's the kind of comedy that British performer Joe Lycett is a master of, but it's not a style of presentation that every comedian thrives with.
Sweeny and Ethan are talented hosts who welcome the standing room only audience and explain how their night is different to other comedy ventures – it has a PowerPoint presentation. The handsome duo looks as if they've been cloned, as they take to the stage in near identical outfits.
The duo kicks off the evening's proceedings with some examples of bad PowerPoint presentations they've encountered in the past. 'Death by PowerPoint' moments from past jobs and university lectures are given a makeover by the enthusiastic pair.  Once everyone's down with the concept for the evening the stage is handed over to four guest comedians.
First up was Perth local Tor Synder who took us on a journey through her side hustle of upselling mid-century furniture she tracks down on Facebook marketplace, and the comedic negotiations in the online chats that follow.
British comedian Lauren Pattison shared with the crowd her campaign to persuade her boyfriend to let her get a dog. Presenting 20 reasons she put forward to bring a dog into their lives. Pattison's laugh inducing logic was the comedy equivalent of a Buzzfeed listicle, but it got the chuckles from the crowd. Amusingly Pattison outlined that the desired pooch would be named Ralph, so collectively they could be known as Ralph-Lauren.
Aves Robins delivered an amusing guide on how to lose friends and 'unfluence' people. Taking on the role of the anti-Dale Carnegie, Robins celebration of introverts and dorkiness was a pleasant journey.
Isabella Valette took us on a journey through her work as an entertainer at children's parties where she appears as a clown and an unauthorised Emma from the Wiggles, linking her experiences with small children, and the challenges of modern dating. Apparently, ukuleles can be used as a seduction tool, but it's not recommended.
Finally, Nick Capper recounted his comedic trip through China, Poland, France and Germany with a set that showcased his unusual middle name that causes him difficulty when passing through immigration.
All the comedians had very distinctive styles but for most stepping outside of their regular way of working appeared to have left them delivering material in haphazard fashion. PowerPoint comedy is maybe not something everyone can master. This a great way through to get a sample of the many comedians performing at Fringe World, and if you like one of the featured artists, they all have their own individual shows as well.
Each outing has a different group of performers taking to the stage. Upcoming shows will include Josh Glanc, Michael Shafar, Kate Smurthwaite (UK), Blake Everett, Laser Kiwi (NZ) Jacques Barrett, He Huang (CHN) Takashi Wakasugi (JPN), Robyn Perkins (USA) and Peter James.
See Late Night PowerPoint Comedy Showcase until 2nd of February. For tickets and more information, head to fringeworld.com.au
Graeme Watson is an editor at OUTinPerth. He has a background in journalism, creative writing, dance, theatre, radio and film working as a performer, producer and writer. Graeme writes for a variety of publications and has been working as a reviewer since 1997.
---

You can support our work by subscribing to our Patreon
or contributing to our GoFundMe campaign.