Review | A Night at the Musicals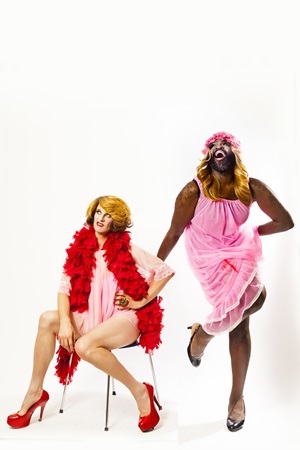 A Night at the Musicals | De Parel
Until Feb 6 | ★ ★ ★ ★ ★
Jonny Woo and Le Gateau Chocolat are UK drag icons. The unshakable duo have come to Fringe World with a promise to "Les Misermassacre" your favourite songs from musical theatre and cinema and they deliver on that guarantee with a showcase of musical talent, uproarious parodies and some of the best on stage banter you'll see at the cabaret.
The pair open with a Phantom of the Opera / Star Wars mash-up that lays out what audiences should expect from the rest of the show. Gateau shows off his vocal acrobatics from the get-go while Woo hams it up with a slapstick Darth Vader routine that you'd have to be dark-sided not to chuckle at.
The dynamic between the duo is absolutely electric, bouncing off each other with cutting one liners that amplified the others sense of humour. Gateau and Woo aren't afraid to play with dialogue on stage, layering joke after joke that had the audience in near-constant laughter.
Serving gratuitous costume changes and some dollar store glamour (work that fan honey), the twosome run through their versions of songs from Frozen, Annie, The Lion King, and the grand finale, Grease. It became apparent that I am a terrible gay/human from the moment I realised I was the only person in the room who didn't know every word Olivia Newton-John sung in the 1978 film, but I was still hopelessly devoted to the show.
Gateau's baritone vocals were powerful enough to shake the tent, and Woo could have won the audience with his performance of Mein Herr alone – but each were all-around talents that made it impossible to look away from the stage.
You don't need to be a musical theatre buff to get into this gig, but if you are… warm up your vocal chords, re-learn all your favourite show tunes and don't miss this high-camp, non-stop powerhouse of a show.
A Night at the Musicals is in the De Parel Spiegeltent until Monday February 6th. Tickets and more information available from fringeworld.com.au
Leigh Andrew Hill