Review: Pam Ann – Fasten Seat Belts and Enjoy the Trip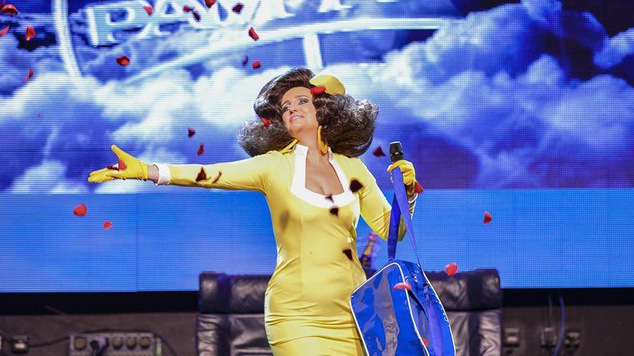 Pam Ann took to the stage of Sydney's State Theatre on Thursday night to near perfect comedy conditions. The title of her new show is 'Plane Filthy', which sums up the show perfectly.
The perfect storm of an extra queer Mardi Gras audience and the announcement earlier in the day that QANTAS was going to shed  5000 jobs gave the world's most experienced airline hostess a lot of material to work with.
Pam Ann's show is not one of those comedy shows which is largely prepared earlier and the reheated for a new audience in each city. Pam Ann is quick witted, fiery, outrageous, more than slightly ribald and clearly not afraid of going too far. At one stage of the show, after making a particularly non-PC comment, she joked "It's live, you can't take it back… there's no going back."
Making the most of QANTAS announcement that it was in financial strife and would be shedding thousands of jobs across the company Pam Ann wasted no time asking QANTAS crew in the audience if they were ready for their transfer budget airliner Jetstar. Noting that the flight attendants would now probably need to cross train to cover the shortages she joked that their newly designed uniforms would look lovely in maintenance.
Working off the different airlines represented in the audience Pam Ann gave an omnipotent view of the international aviation industry. Throwing comments about Easy Jet's garish orange parka uniforms, to the number of gaudy Australian's working behind the veil at Emirates. Making reference to an ageing American carrier Pam Ann joked that's their flight attendants were so old they were actually ghosts, "Woo, where's my drink come from," she cackled.
Through out the show Pam Ann draws on the personal stories of different people in the audience. She repetitively cajoled more and more information out of a fitness trainer called Eddie, asking him if he was "completely sure" if he was straight. Discovering that another highlighted audience member was a veterinarian opened up the doorway to a plethora of Ketamine jokes.
The show also contains a series of video clips parodying everything from 'Titanic' to US TV show 'Pan Am'. This allows Pam Ann to slip away and change into several more and more outlandish costumes. Pam Ann is at her best though when she's making it up and she goes along, and while this may lead to extended periods of chitter-chatter, it's worth it for when the killer one liners hit.
Go and see Pam Ann – you'll laugh a lot!
Pam Ann plays the Regal Theatre in Subiaco on Friday March 7th. Find out more here.
Graeme Watson