Review: PTC's 'A Number' is a Rewarding Experience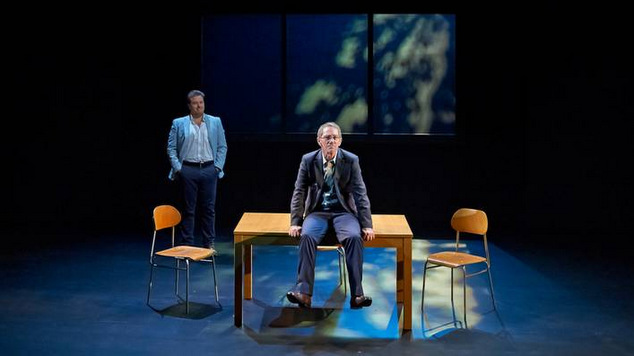 Perth Theatre Company's production of Caryl Churchill's 'A Number' is a challenging storytelling experience that is certainly thought provoking.
Two men meet, one older and one younger, we learn they are a father and son, they start discussing something, but it takes a little while to work out what the conversation is about.
Gradually we ascertain that the son has recently learned that he is a genetic clone and he is not the only version of himself.
We meet another version of the son, and then another.
For WA Academy of Performing Arts graduate Brent Hill, who takes on the multiple roles of many variations of the son, this is a juicy role. He successfully plays the different nuances that separate the first version of the son, from the second and third.
Opposite Hill is well known TV actor Kim Gyngell, playing very much 'against type' as the serious father. Both actors are fine in their performances but it is difficult to disassociate Gyngell from his extensive back catalogue of under achievers and nerdy types, the slightest inflection in his voice away from the strong and dominant nature of his character triggers memories of his previous work.
The most rewarding aspect of this play is the questions it poses. Beyond the obvious nature versus nurture argument, Churchill's story sends a rush of propositions into the audience's minds.
What would you do if you met yourself walking down the street? Would you like yourself or find yourself annoying? What if key events in your life never happened, would you be another version of you? If given a second chance to raise your children slightly differently, would you take the option of a second go? The hypothetical challenges come thick and fast. Days later you'll find yourself still mentally immersed in the plays subtext.
Churchill's style is challenging. The dialogue is comprised of short unfinished sentences, words are repeated regularly and the two leads volley back and forth at a great pace. The language is designed to suggest the action is occurring sometime in the future, and naturally our way of speaking has progressed. While this technique is marvelously effective at creating atmosphere, the verbal ping pong is challenging to focus on.
Bruce McGinven's set design of a simple room, combined with great lighting from Jon Buswell gives the play a fantastic setting, beautiful in its simplicity. The shadow filled stage adds gravitas to the ethical discussion. Perth Theatre Company's Artistic Director Melissa Cantwell, who directed this production, once again brings a challenging piece of modern theatre to the local stage.
The experience of watching this short but serious story is outweighed by the mental journey it'll take you on. If you're after something that is pleasingly cerebral you will not be disappointed.
'A Number' presented by the Perth Theatre Company is on at the Theatre Underground at the State Theatre Centre in Northbridge until April 27.
Graeme Watson